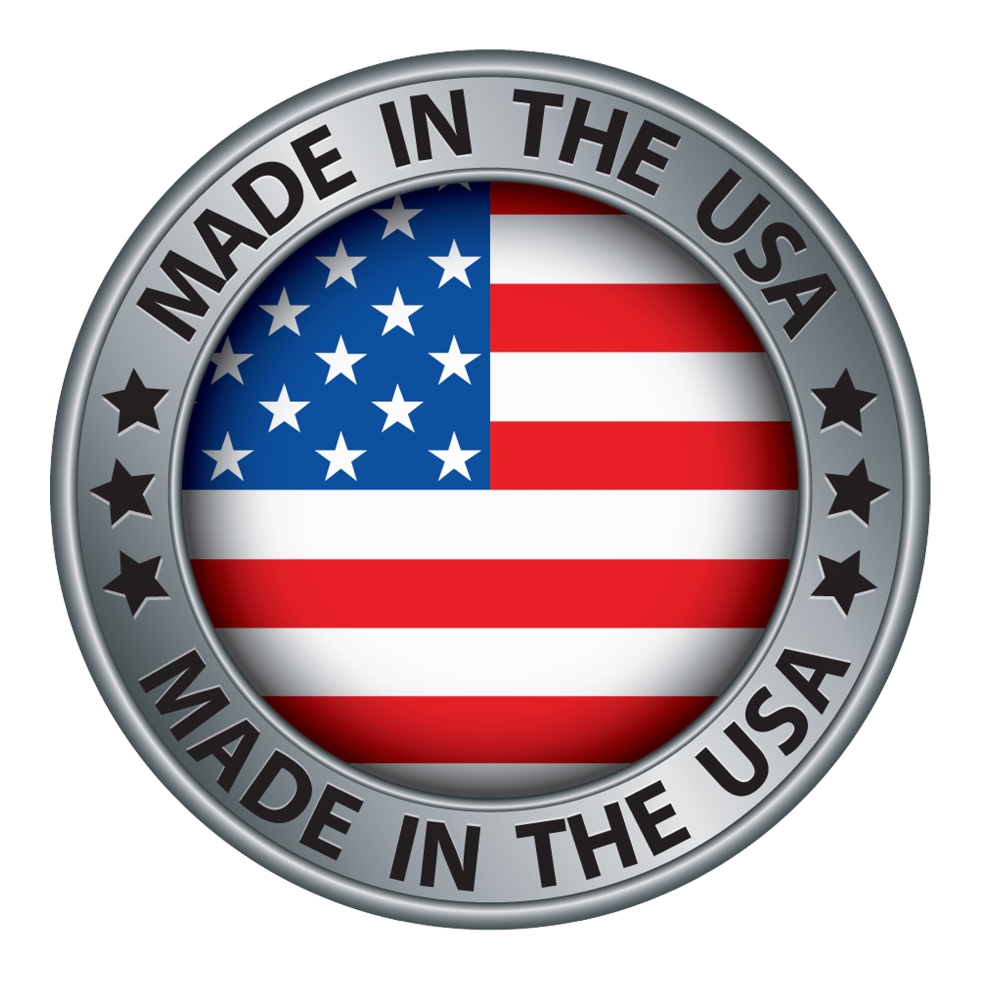 QUICK OVERVIEW
From your backyard to large boarding facilities you will want to keep your dogs in one of our Xtreme® Dog Kennels or dog runs. Our outdoor dog runs are made of long-lasting robust steel construction and covered with a rust-resistant powder coating of special durable UV gray textured coating. You will see that Xtreme offers so much more making these kennels the strongest kennels available anywhere.
"If you can imagine it, we can build it." Give us a call and let us know what you have in mind. Please notice the 2" x 2" welded steel wire. It's the ultimate in holding power in dog kennels and dog runs. The smaller the opening the stronger the welded wire since more welds are used.
NOTICE: DUE TO SUPPLY CHAIN ISSUES ALL WIRE USED ON OUR KENNELS WILL HAVE 2 X 4" OPENINGS EFFECTIVE 10-1-2021.


Should you wish to purchase one of these first quality Xtreme Outside Dog Kennels, be prepared to wait 10 to 14 weeks and you will need to will-call your shipment in Ardmore, OK. Thank You


We build and ship outside dog kennels and runs in both our standard configuration and as custom kennels built to your specifications. These are robust long-last kennels you can be proud of. They will safeguard the investment you have in your pets both emotionally and financially for many years to come.
OUR OUTSIDE DOG KENNELS ARE;
Escape-Proof
Indestructible
Strongest dog runs
DETAILS
TO SEE LOWER-PRICED MULTIPLE RUNS OUTSIDE DOG KENNELS PLEASE CLICK HERE.
Whether it's a single outdoor kennel or multiple dog runs we will meet and exceed your dog kennel requirements. You may wish to have a roof on your dog run. You will be happy to know that all our pricing do include roofs. In the case of enclosed kennels, the price includes the roof and sides as well. Keep those puppies warm this winter.

We have standard sizes and configurations with many options available. If you don't see anything in our standard line, please let us have your ideas for your unique outdoor dog run or multiple runs. We will quote it, build it and ship it.
STANDARD FEATURES
Drop-Pin Assembly Quick and Easy No Tools Required
3/16" diameter Welded steel wire used for the front
Welded steel wire openings are 2" x 2"
1.5" Square Steel Tube used for frames
All frame & door parts are welded everywhere metal touches metal
A 3 Ft. Wide door is standard
All kennels are sprayed with super durable UV gray textured powder coat.
5-year factory warranty against defect in material and workmanship. Warranty does not cover rust. It is a steel product.
Schlage Deadbolt standard on all kennel doors
The front is panel raised 1.5" off floor for easy cleaning
Anchors included as needed
Horizontal braces at 36" up from the bottom
Delivery: See Production Time & Shipping Information at the bottom of this page
OPTIONAL FEATURES
Unlimited number of runs available
Roofs - fixed pitch at 3"
Roof material 26 gauge steel
Fight guard dividers 24 gauge steel
Deadbolt Keyed
Horizontal Braces at 18" or 36" up from the bottom
Dog house Cutout
Dog houses are also available
DEFINITION OF FEATURES AND OPTIONS
All sheeting, roof, and sides, will be pre-drilled and screws supplied. Customer must attach sheeting to panels using hardware provided.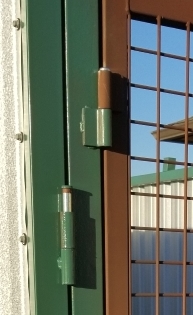 Drop-Pin design makes for quick and easy assembly. No Tools Required.!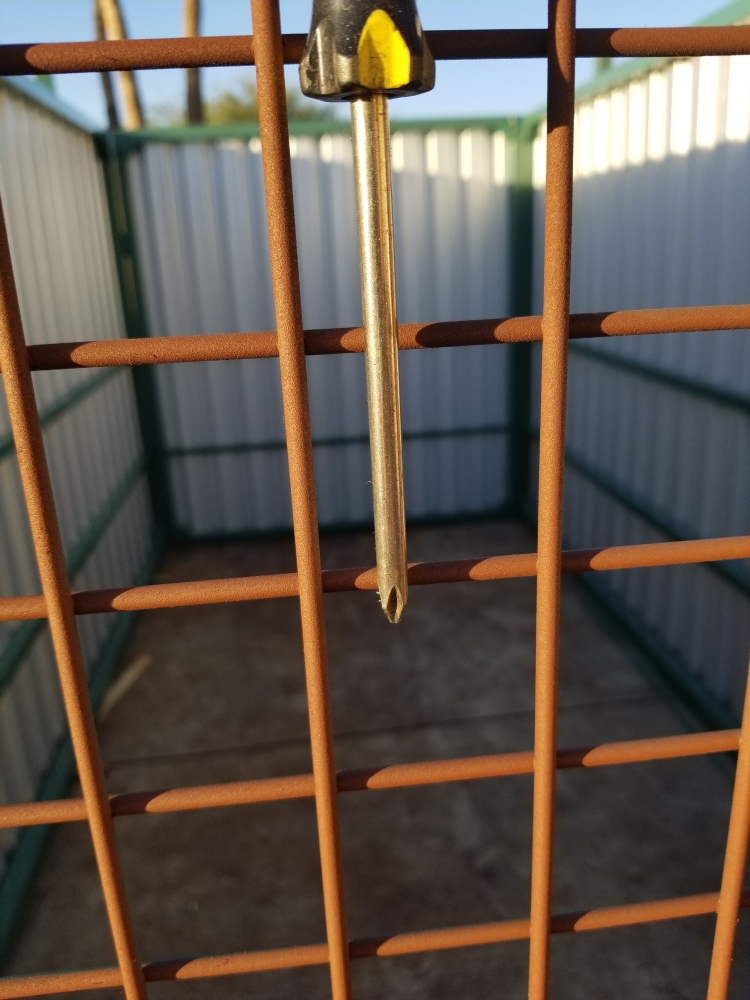 3/16" Welded steel wire used for the front of the kennel and the gate. When the welded wire is that thick and the openings are only 2 x 2" you now have the strongest welded wire in the business.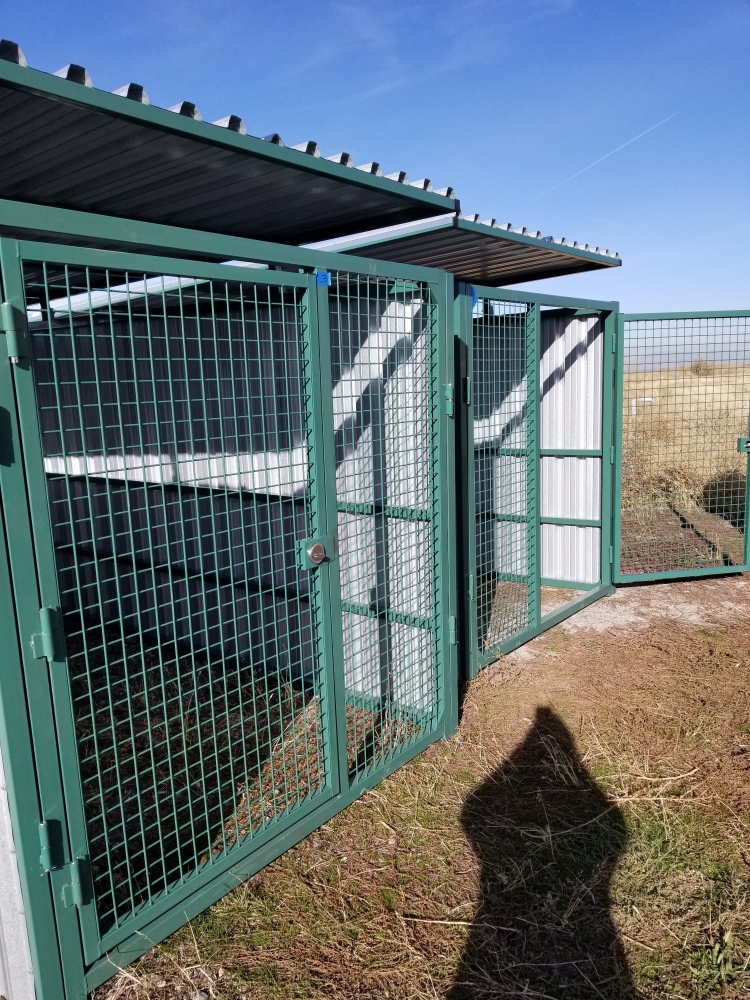 A 3 Ft. Wide door is standard: Standard on all our outdoor kennels. Hinges can be placed left or right at no additional charge. Standard location is hinges on the left side. This means the door opens right to left. If you desire a custom door size and location, please let us know.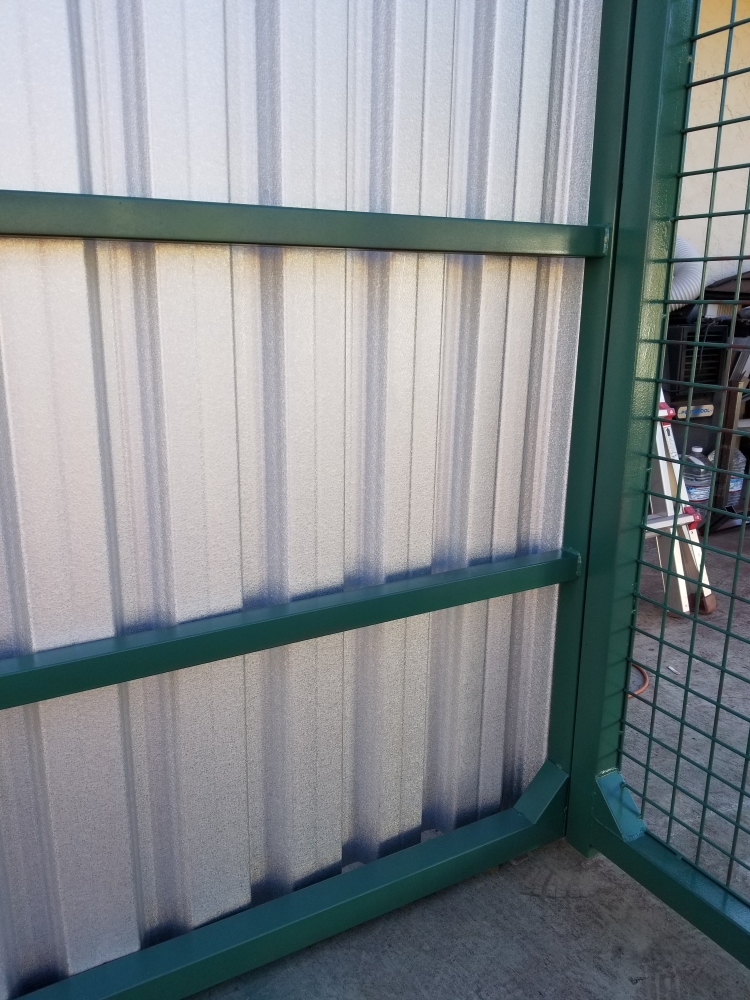 1.5" Square Steel Tube used for frames: This is the size used on our standard kennels. One time round at 36" up from the bottom is standard. If you would like to add a 2nd steel brace at 18" just make that selection in the dropdown menu.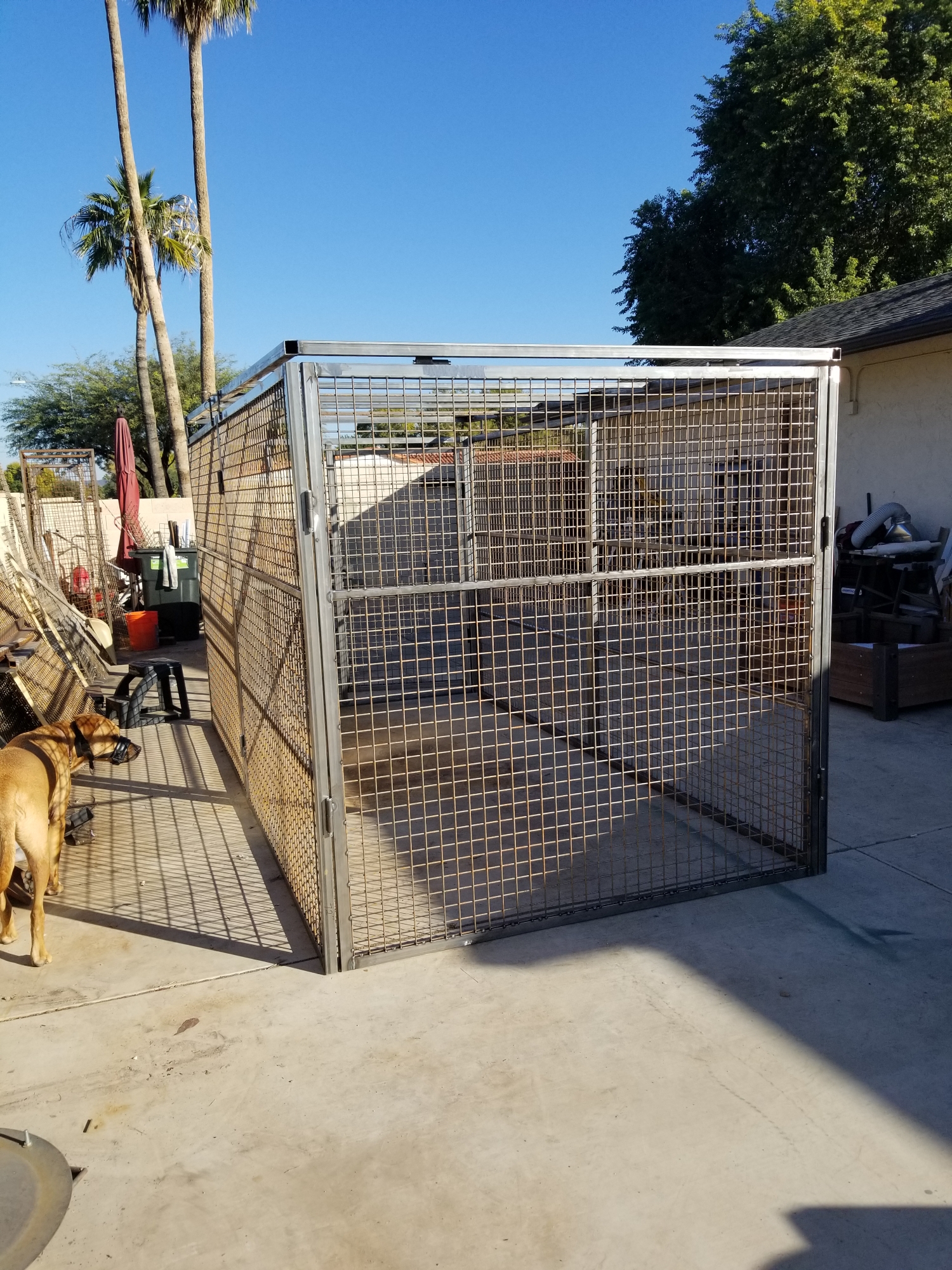 We use a super duty UV powder coat in a Gray texture color for all our outside kennels. This is the only color available at this time.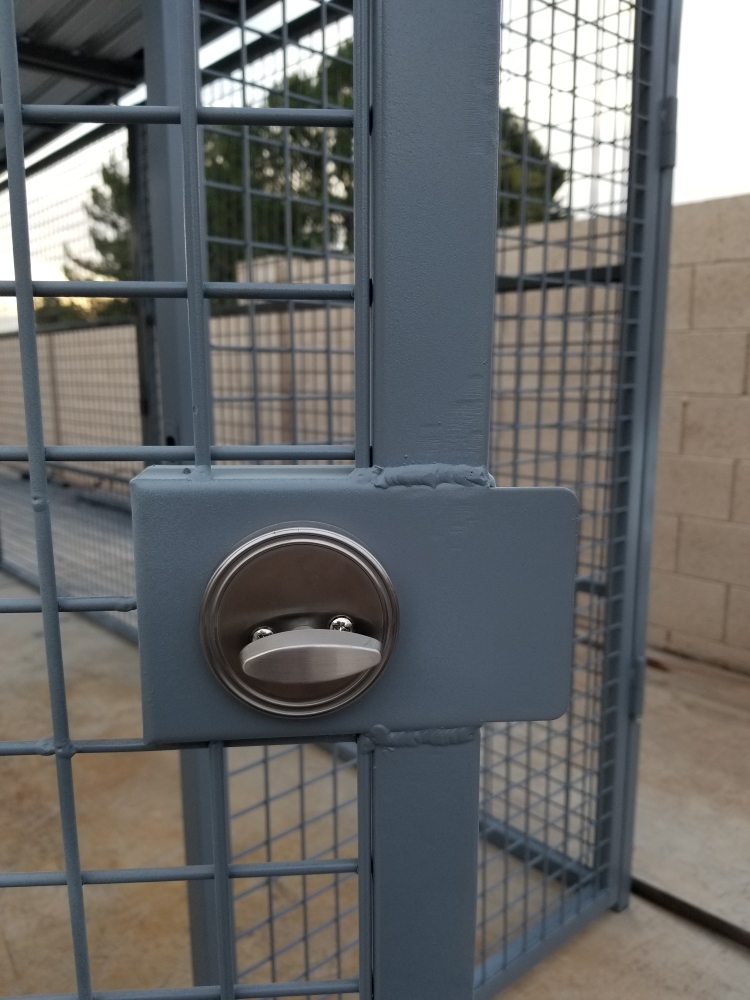 Schlage Deadbolt standard on all kennel doors: The Schlage brand has been keeping folks safe for decades. The Schlage deadbolt is the only locking device we used on our dog crates and outside dog runs. We believe it is the best and most dependable way to lock your kennel. Of course, we do have locking options both keyed and no key. Please see the drop-down menus.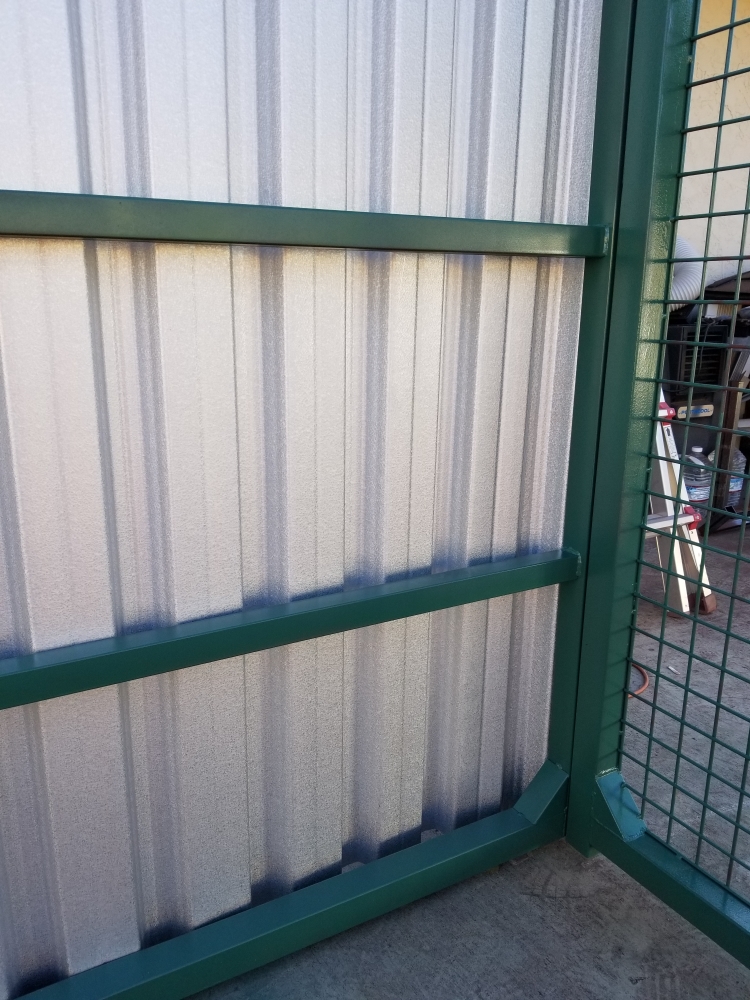 The front panel raised 1.5" off floor for easy cleaning: We know that you want to keep your dog's kennel area clean so we provide a 1.5" space under the front of the kennel for washing out any debris. If you prefer to have this space located somewhere else or if you want it all around your kennel, of course, we can do that. Please see the drop-down menus under "Options."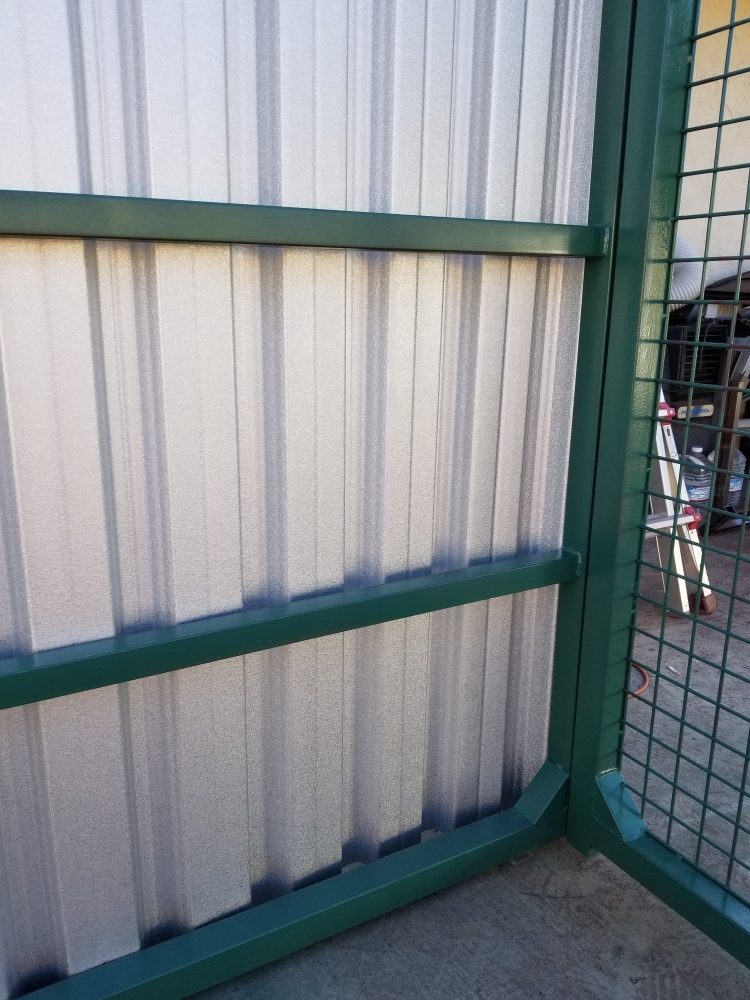 Horizontal braces at 36" up from the bottom: Our standard dog run models have a horizontal strengthening brace at 36" up from the bottom. Some customers have asked for one brace at 18" plus the one at 36". If you wish to add the 18" brace just let us know using the drop-down menus.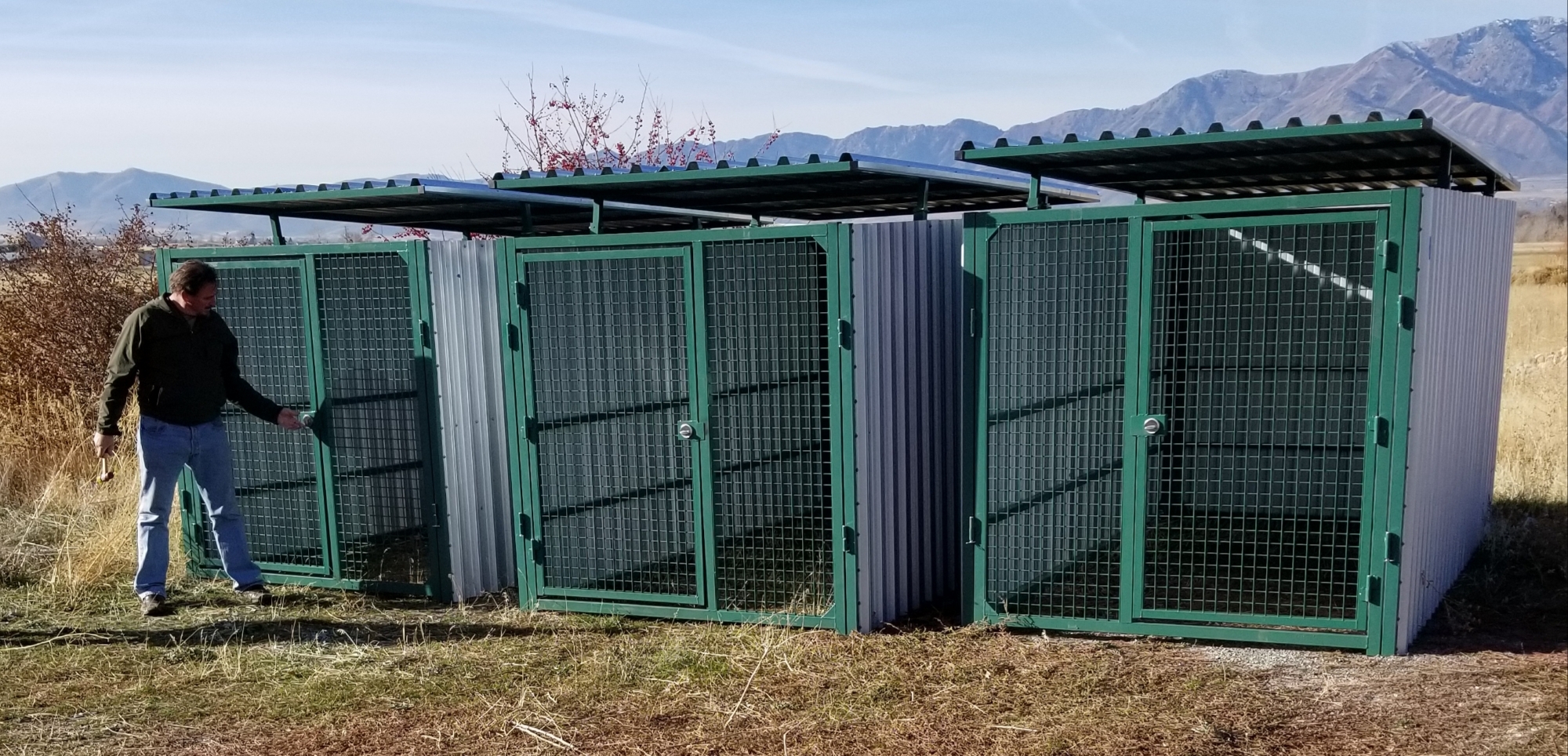 An unlimited number of runs are available: We list a maximum of 6 runs, however since we are both a production and a custom shop you can have as many dog runs as you like. Give us a call for complete options and pricing on your specific requirements.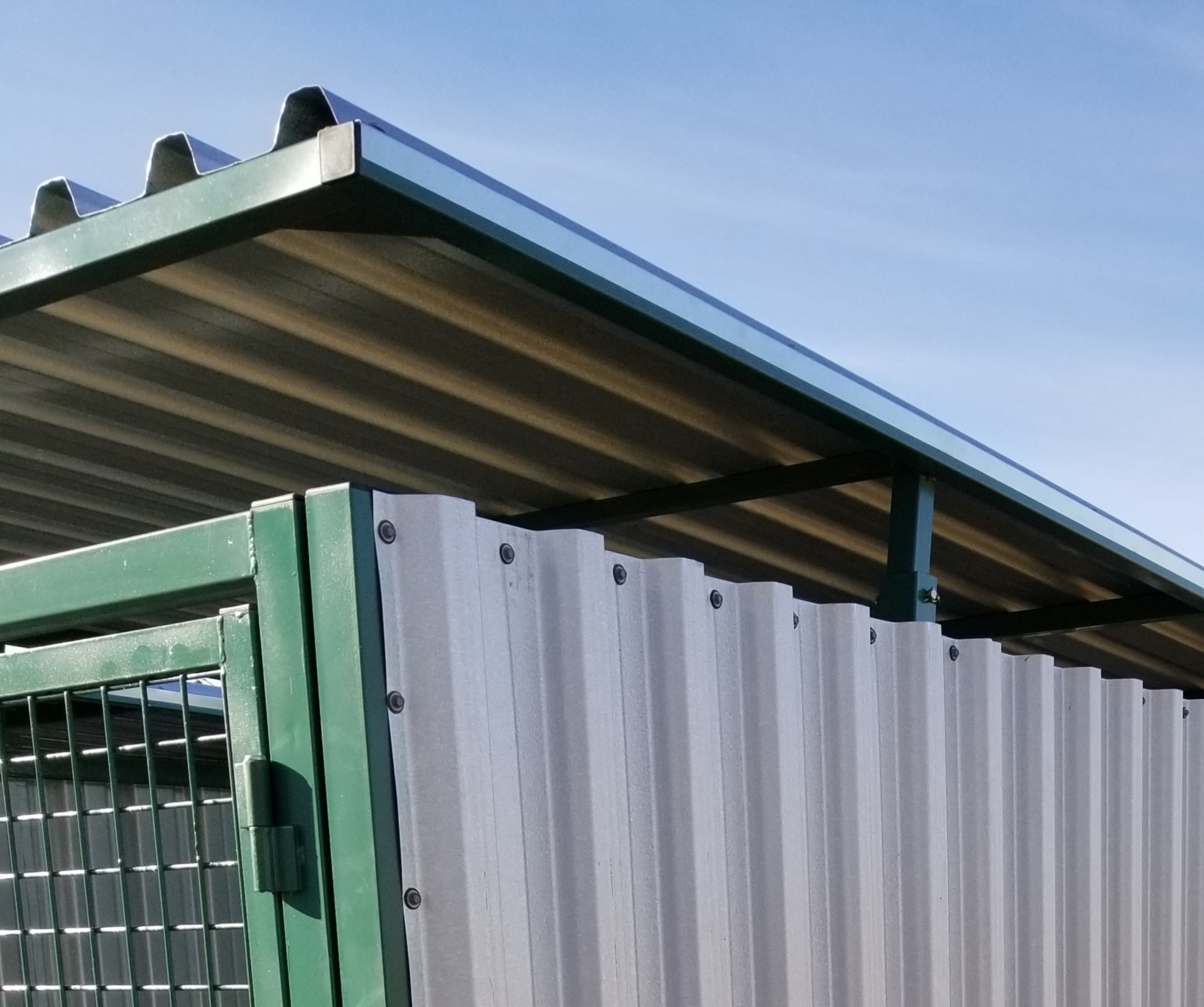 Roofs - Our design incorporates a fixed pitch roof at 3". If you need something other than that, we can talk about it. Our standard roof is made of 26 gauge steel sheet. Different thicknesses of steel are available. Just give us a call to discuss both steel thickness and pitch options. You can contact us at 800-640-1364.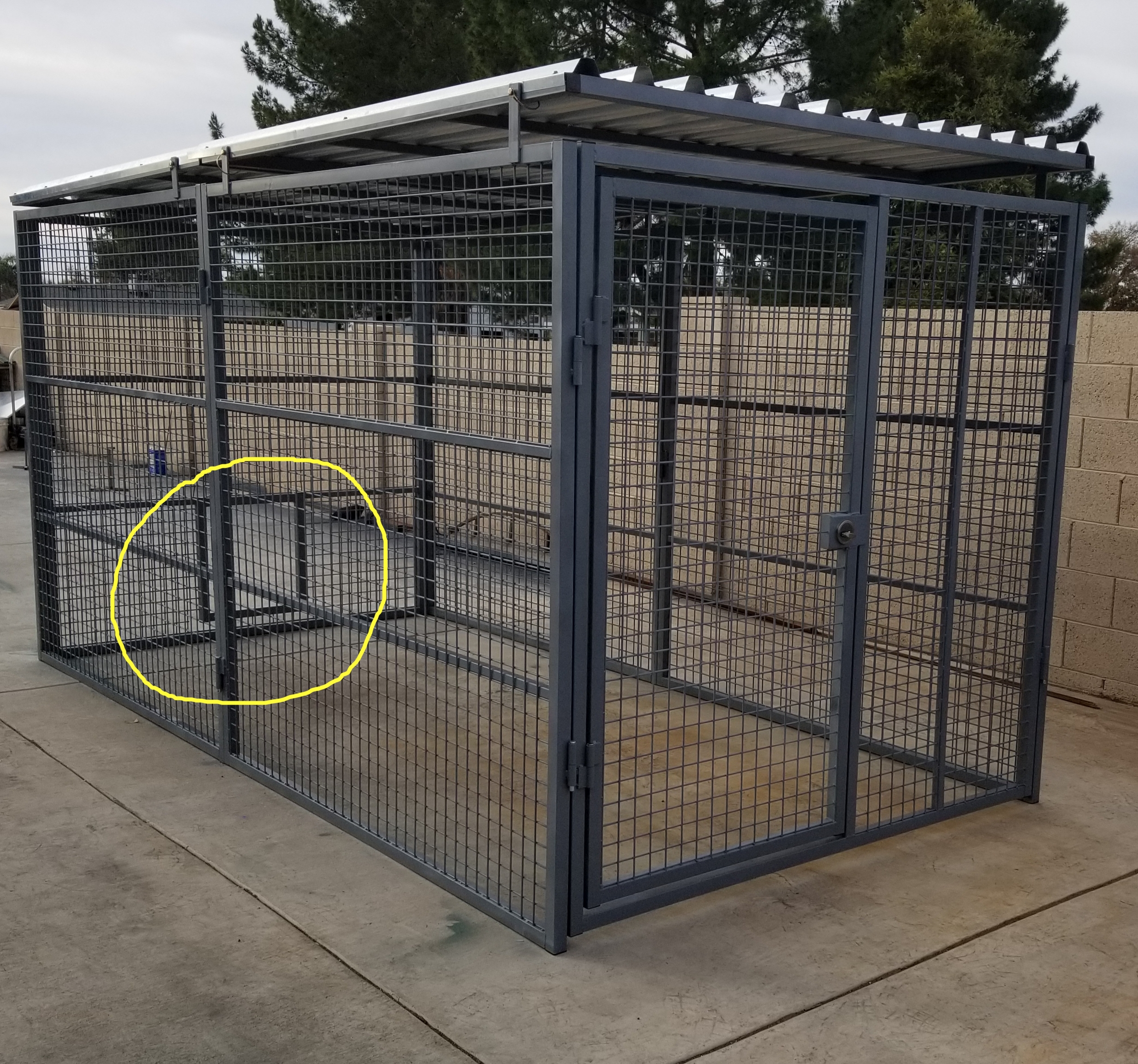 Dog House Cutout: Some dog run customers tell us they would like to put their dog house outside the dog run maximizing the space available inside the run. We are happy to place the dog house opening anywhere on your custom kennel. Once we have the location and size of opening dimensions we can finalize the pricing for this option. Just let us know. Contact us at 800-640-1364.
Fight guard dividers: Our standard dividers are 24 gauge steel. If you prefer a different gauge of steel fight guard divider, just give us a call.
PRODUCTION TIME & SHIPPING INFORMATION
Outside kennels ship via LTL Truck. A Pro number will be provided for tracking purposes. Shipping costs vary depending on the number of runs being shipped. Our cost for shipping single runs is $500. Call for shipping cost quotes for additional runs.
PRODUCTION TIME FOR ALL OUTSIDE DOG KENNELS
1-RUN: 4-6 WEEKS
2-RUN: 5-7 WEEKS
3-RUN: 6-7 WEEKS
4-RUN: 7-8 WEEKS
5-RUN: 7-8 WEEKS
6-RUN: 7-8 WEEKS
Xtreme® Outside Dog Kennels are ultra-strong high-end kennels. They are used by law enforcement and Search & Rescue agencies in addition to other commercial and residential applications. Each kennel is hand-made and checked and rechecked prior to shipment. There is no automation involved in the building of these great kennels. We do not have an "Expedite Fee" program where you can pay us more and get your kennel faster. We work on "first in first out" and we build your kennels as fast as we can. In most cases that means 7 days a week.
WARRANTY
Each Xtreme® Outside Dog Kennel & Run will have a 3-year warranty against parts and workmanship. This warranty does not cover rust. It shall be the owner's responsibility to touch up any rust spots as needed for long life. This is a robust steel kennel. Since it is used outside, there will be spots where touch-up will be needed as time goes by.
Your new Xtreme® Dog Kennel is an escape-proof dog run. Should your dog or dogs manage to escape this kennel please provide pictures of the damaged area. Xtreme® Dog Crates will replace the defective part or the defective kennel at their discretion depending on the individual situation for 3 years from the date of purchase and, to the original owner.

CANCELLATION
We make all the outside kennels and runs to order. This means that once you have ordered and paid, we make an investment in materials and labor, therefore, any and all cancellations have a 25% cancellation fee no matter what stage of production your order is in at the time of the requested cancellation.