QUICK OVERVIEW
CarryMyDog.com has your giant heavy-duty dog crates. They are the strongest and largest escape-proof and indestructible dog crates for your giant dog available. These giant heavy-duty dog crates offer 3/16" welded steel wire construction. Our large breed giant dog crates are made of indestructible steel. These crates come with the "life of your dog" warranty. This is the hard-to-find super-strong escape-proof dog crate you've been looking for. Take your life back while providing safety and security for your dog.
DETAILS
NOTE: The main images show 3 door locks. Our standard 60" Giant Crate comes with 2 non-keyed door locks included in the price. This customer wanted 3 locks.
If you have any of the giant breed dogs listed below, you might be having trouble finding an XXL dog crate strong enough or large enough to hold your giant breed dog. If Separation Anxiety or Noise Phobia are present, strength is a requirement, not an option. You have found the strongest escape-proof indestructible Giant heavy-duty dog crate made.
We normally mention separation anxiety and noise phobia as reasons to use a giant heavy-duty dog crate for your dog. The trainer who submitted the video below, Jennifer Sharpe of Complete Dog Obedience in Alameda, CA., uses our heavy-duty crate to protect her dog. She wants to be comfortable knowing that her dog is safe when other dogs and smaller children visit her home and facility. Everyone is relaxed, both owner and visitors human and canine.
If you need a giant heavy-duty dog crate, you may find it difficult or impossible to get such an XXL crate inside your home. Not so with the Xtreme Drop-Pin portable design.
These Xtreme® heavy-duty dog crates are portable. This means you can take your crate inside one piece at a time. You can assemble your new crate in less than 5 minutes with Xtreme's fantastic Drop-Pin design. See the video under "Assembly" below for the full description.
You can find a giant dog cage at the big box pet stores, but it will have a small wire size. Those crates will not stand up to the dog that wants out. Your giant breed dog will stay in the lightweight wire crates only as long as they accept their confinement. Once they decide it's time to leave the crate, they will walk out after chewing or pushing their way out of the big box pet store giant dog crate, sometimes injuring themselves in the process.

"We no longer powder coat our crates!"
The Den Effect or 360-degree Visibility
For years I was convinced that a dog huddled in a confined space with very little view of the outside world offered comfort and safety for the dog: "The Den Effect." Based on what so many of our customers have told us, I am convinced that when your dog can see what's going on around them (360-degree visibility), they are far less anxious when in their crates. That's what the Xtreme Heavy Duty Dog Crates offer in addition to strength. Your dog can always see what's going on around him.
ASSEMBLY
Our innovative "Drop-Pin" design means that anyone can assemble or disassemble this super-strong heavy-duty dog crate in 5 minutes or less. The following assembly video is under 5 minutes using no tools and with time to spare. Watch as the heavy-duty dog crate is assembled without a single wrench or screwdriver. I feel certain that you can assemble your crate in under 5 minutes. Have a look. Nothing could be easier.
BREAKING NEWS!
Xtreme® Dog Crates is now using14 gauge steel tube in all their escape-proof indestructible heavy duty dog crates. The 14 gauge steel tube replaces the 16 gauge that had been used previously. For any that may not know the significance of this, the lower the number the thicker & stronger the metal. The Xtreme dog crates just got even more escape proof and continue to be even more durable & indestructible. Lifetime Guarantee: if your dog escapes any of our heavy duty dog crates we will refund your money. Of course the crate has to be locked.
TESTIMONIALS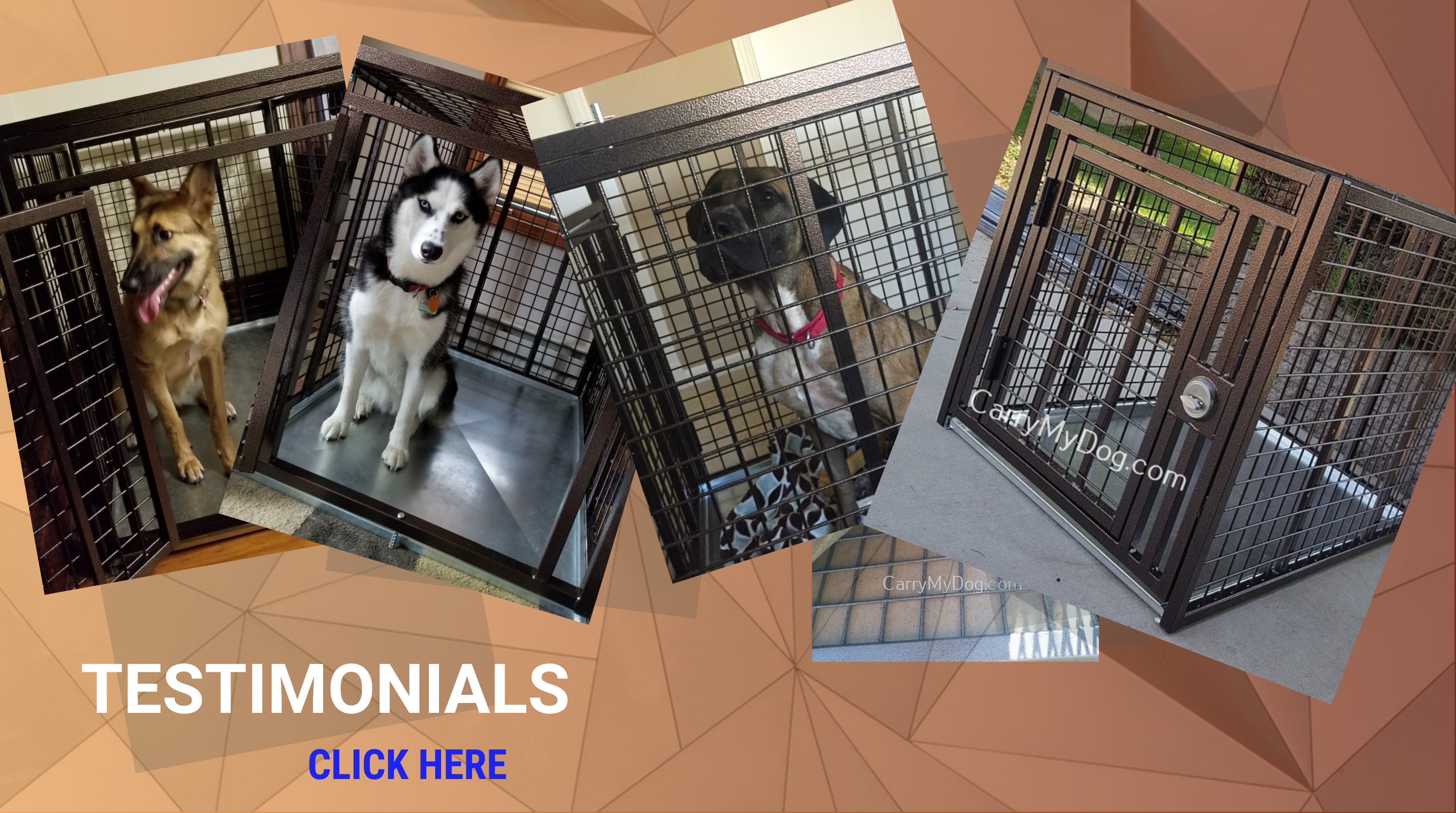 Just how strong is this giant breed dog crate
This crate will hold any animal you are strong enough to put inside!
If you need a smaller crate, please check our standard sizes.
Hear from Jennifer, a professional trainer at Complete Dog Obedience in Alameda, CA., as she explains why the Xtreme® Giant Dog Crate is the best, the strongest crate for large breed dogs.
What large dog breeds are we referring to?
Here's a list of the large or giant dog breeds. It is in no particular order and is not complete. These are only examples for your review. To the right, you will see Mr. Sisko, a GSD who qualifies as a giant breed. He's relaxing in his new Giant Custom Made Heavy Duty Steel Dog Crate from CarryMyDog.com.
Mastiff
Malinois
Great Dane
Cane Corso
Bullmastiff
Kuvasz
Leonberger
Tibetan Mastiff
The Great Pyrenees
Newfoundland
Saint Bernard
Neapolitan Mastiff
Dogue de Bordeaux
Bernese Mountain Dog
Black Russian Terrier
Irish Wolfhound
German Shepherd
Scottish Deerhound
Anatolian Shepherd
Wolfdog
Yes, most giant breed dog owners freely admit their dog is as gentle as a baby. You often tell people he is a big baby. A Great Dane owned me during my younger years, so I experienced this firsthand. I know that one swish of a Great Dane's tail will clear a coffee table.
That said, it doesn't change the fact that they want what they want. While I did not crate my dog, many dog owners need to crate their dogs since they often are away from home. Separation Anxiety or Noise Phobia could be why your giant breed needs to be crated. When company comes over, you may crate your dog to keep them away from well-meaning children and visiting dogs. It's a safe thing to do.
Why should I provide a Giant Dog Crate for my large breed dog?
Peace of mind, it's just that simple. These crates are escape-proof and indestructible and therefore built for separation anxiety dogs. In the case of a giant breed dog, this crate will allow you to prevent the inevitable escape from your dog's current light-duty crate. Restating the obvious let me say again that large breed dogs all need a crate like this for their safety and the preservation of your home and its contents.
Why is this giant dog kennel so strong?
First, we take 3/16" welded steel wire mesh and weld it to a 1" square 14 gauge steel tube for the frame. Now you have a panel as strong as a steel wall. This crate is welded everywhere metal touches metal. Extra uprights are welded in on the sides and back for additional strength. If you take a moment and study the picture of one of these crates, you can easily understand why we say it will hold anything you're strong enough to put in it.
Powder Coating
These escape-proof crates are powder coated. This means it is rust-resistant and will maintain its good looks for years to come. The crate is made of steel so that you may see specks of rust from time to time. A simple touch-up of paint or even clear nail polish while still a small spot will stop rust. The warranty does not cover rust.
Colors
If you do not select a color from the drop-down menus in the "add to cart" area, your crate will arrive with a handsome Copper Vein powder coat. In case this is not your color, we've added 2 textured colors from which to choose. Isn't it great to have options? Please do allow us a few extra days when a special color is selected. Of course, we do custom crates, so if you have a special color not shown, just let us know, and we will search it out for you.
You can see the Copper Vein and all your color options here.
WEIGHTS
Mega Max Giant: 54 x 42 x 45H = 225 Lbs.
Super Max Giant: 60 x 46 x 47H = 240 Lbs.
Can my dog break through the door?
Your dog will always try to escape through the door first. After all, that's how he got into the crate, so it would make sense then that it must also be the way out.
As soon as you see how the door on these crates is secured,
you will love this locking system as much as we do. For Houdini escape artist dogs, the door is the first order of business. This occurs regularly until the dog is convinced that the door is not an escape route.
The conclusion is that the door needs to be perhaps the strongest part of the crate. It will require a door lock to keep the door closed 100% of the time without fail. Dogs are quite clever. Many times they will find a way to unlock their crate door. Yes, it has been known to happen. We supply one Schlage deadbolt for each of our indestructible heavy-duty crates.
Can you get 2 locks on your crate door? Absolutely! Just order it when you place your crate order. It's an option we provide because these crates are so large. Plus, it looks really cool with double locks.
The Schlage deadbolt was our first choice. Yes, there are cheaper ways to go, but none provided the strength and peace of mind of the Schlage deadbolt.
DEADBOLT OPTIONS
If you're a dog owner that thinks your dog might break the door on the Econocrate, then, for your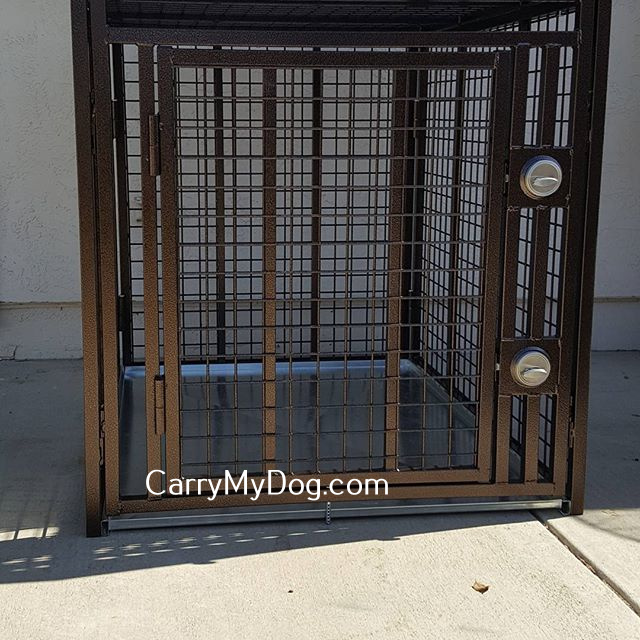 peace of mind, we offer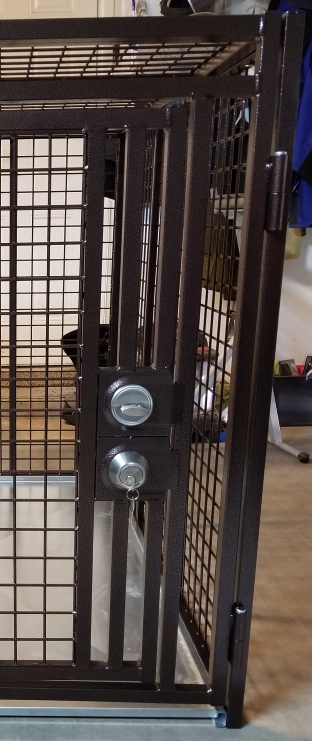 deadbolt options. We know one deadbolt is enough, but some take no chances. Please see the drop-down menu "Deadbolt Configuration" in the Add to Cart area.
Deadbolt Placement
Should you request 1 Non-Keyed and 1 Keyed Deadbolt be installed on your new Econocrate, please know that they will be placed very close together in the vertical center of the door frame. This will ensure lock integrity when only 1 lock is being used. This configuration allows the opening and closing of the door without dealing with the key each time. However, if you need to lock the crate, the keyed deadbolt is ready to be used.
When you have 2 deadbolts installed that are the same, both keyed or both keyless, they will be separated and placed equidistant on the vertical door frame. This provides equal door security at both the top and bottom door locations.
Features List
3/16" welded steel wire
2 x 2" wire mesh opening size
1" steel frames 14 gauge
Schlage deadbolt door security
2nd Deadbolt available (purchased separately)
18 gauge galvanized floor pan
Welded door hinges
Powder Coated for rust resistance
Custom Build vs. Standard Sizes
If our giant dog crates are too large, please be sure to check out our smaller standard-size crates.
Some more good news about custom crates: We will build any size you want! All our custom size crates show the same pride in workmanship and materials as do our standard sizes.
CUSTOM CRATE SIZES - ABSOLUTELY
If you need a unique custom size for your giant breed escape artist, give us a call. We can build it! We will provide a quote for your specified size. 800-640-1364
The giant heavy-duty dog crate shown here is a 60L x 35W x36"H custom crate. It has an end entry and a custom color. The dog shown here is Max. He's a 90 Lb. Rhodesian Ridgeback, an all-around great pal and fine dog. He's our VIP in-house model.
So, where do you turn when you have a large breed dog that does not wish to be confined? Just give us a call to discuss the details, get your crate quoted then you can place your order.
Both Giant crates shown here are "Custom Crates." Explore the possibilities!
Let's Talk Warranty!
A manufacturer's warranty covers your new giant dog crate for 10 years to the original purchaser. It covers defects in materials and workmanship. The manufacturer makes replacement decisions. Just give us a call should you have concerns about your heavy-duty dog crate.
Why would a manufacturer put such an extended warranty on a product? The answer is simple: because we know your dog can't break this crate.
The crate pictured here is on the way to an East Coast customer. It measures 60L x 35W x36"H. It has an end-loading door. It is a custom size and a custom color. The handsome dog you see in this beautiful crate is Max. He is a 90 Lb. Rhodesian Ridgeback is a great pal and all-around fine dog. As you can see, he is our in-house model.
How will my new crate arrive?
Your new crate will arrive via tractor-trailer. We will strap it to a pallet. The truck will need to park in front of your home. If that is a problem, you will need to tell the trucking company when they call to set up the delivery appointment.
How long does it take to build my giant dog crate?
These indestructible heavy-duty dog crates are made to order. Your crate may ship earlier, but we ask you to expect a 6 to 10 business week schedule. Your new crate will ship via the LTL Truck line.
Storage Fees: Any shipment left with the carrier for more than 48 hours will incur storage charges. As the customer, you will be responsible for any and all storage charges. If the shipment is returned to the shipper, the storage and freight charges will be deducted from your refund. When the carrier calls you to set a delivery appointment, set an appointment then no fees will accrue.
INTERNATIONAL SHIPPING
We're proud to announce international shipping to Canada & Mexico on this top-quality line of heavy-duty dog crates!... Call for your shipping cost quote.
We are now shipping to Canada. Orders going to Canada will need a special freight quote, so call us with your complete destination address. We are happy to ship to a border town so you can pick your crate up and take it home.
~Special Note & Disclaimer regarding custom-sized crates~Read this before you order.
Standard Crates: There is a 25% cancellation fee should you cancel for any reason. It will be deducted from your refund.
Custom Crates: There are no cancelations on custom crate orders.