QUICK OVERVIEW
Xtreme™ Dog Crates are the strongest heavy duty crates made today. They hold the strongest & largest Houdini dogs, guaranteed. 100% steel construction means they are indestructible. These strongest dog crates are the most durable, most robust dog crates available today.
Xtreme® dog crates mean no escapes, ever! These crates are constructed using field-tested designs and materials to contain the strongest escape artist Houdini dogs. Yes, they are made of indestructible steel so they have a 10 year No Escape warranty.
Xtreme heavy duty dog crates are the best possible tool for the management of K9 Separation Anxiety and Noise Phobic dogs. Designed to be collapsible (quick take-apart) heavy duty dog crates use a Drop-Pin design which means that you no longer need to worry about getting the big heavy duty steel dog crate through your front door.
DETAILS
Xtreme® heavy duty dog crates are constructed using field-tested designs and materials which will contain the strongest of escape artist dogs: every dog - every time. The combination of materials and design make these crates escape proof, indestructible and guaranteed to hold your dog no matter the size, strength or level of aggression.
Construction of these collapsible heavy duty steel dog crates uses the Drop-Pin design. They're unmatched in the industry for strength and durability. Made of 4.5 gauge welded wire over 16 gauge square tubing makes for the strongest dog crates available anywhere.
If you need the best, the strongest dog crates made, you've found them and, you can only get them here at carrymydog.com. Get your order in today.
FEATURES
Escape Proof design and material
Indestructible steel
Drop-Pin design means - No Tools Required for assembly or disassembly
The crate is welded everywhere metal touches metal
Sturdy 16 gauge square steel reinforced frame tubing
Powerful Schlage deadbolt - the door stays locked
The collapsible feature means easy take-apart for transport or storage
Collapsible means it will fit through any existing door
Powder coated for rust resistance & long life
10 Year Warranty to the original purchaser
Available in custom colors (optional)
Custom designs & sizes available. Call for quotes.
These strongest steel crates are welded everywhere metal touches metal!
Learn what our customers think of these strongest heavy duty dog crates.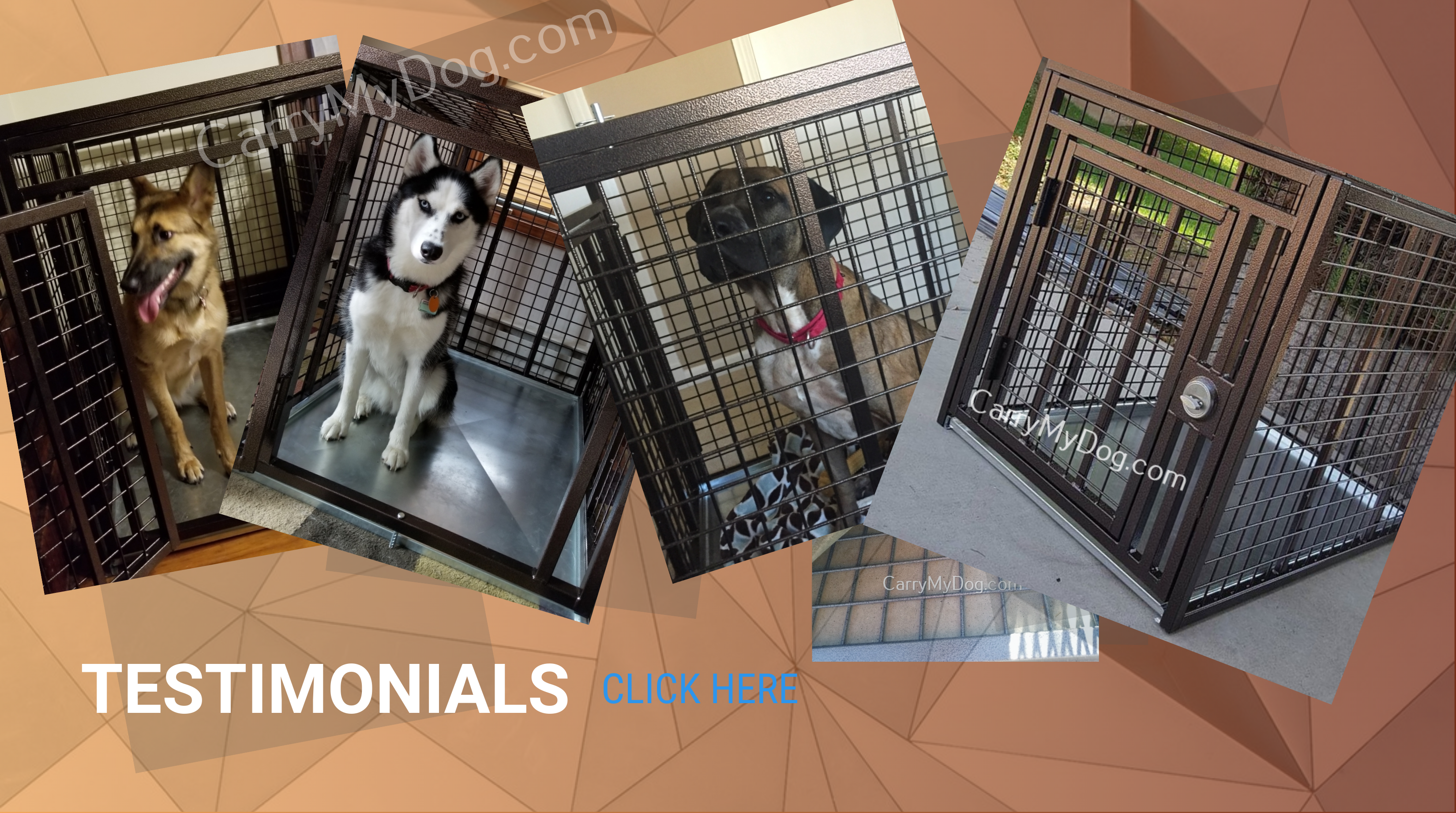 GIANT BREEDS
Have a Giant breed dog? Learn about our Giant crate models used to contain and manage the largest, the strongest and the fiercest of the giant breeds with or without separation anxiety.
ASSEMBLY & COLLAPSIBILITY
DROP-PIN DESIGN MEANS NO TOOLS REQUIRED!
Assembly is so quick and easy with the Xtreme® Drop Pin design. Just line up the hinges then drop the pin in the holes. It couldn't be easier. Average assembly time is 5 minutes or less for the average person. Enjoy this short assembly video then assemble your new XTreme heavy duty steel dog crate without tools!
You can take apart separate the 6 sections by removing the pins that hold it together. The parts are now ready to be stacked for transport or storage.
The fact that the crate is "collapsible" is a definite bonus. If you watch the following video now, you will quickly see why this heavy duty dog crate is stronger than crates requiring assembly using bolts, washers, and nuts and tools.
MORE ABOUT SOME OF THESE IMPORTANT FEATURES
THE WIRE
Every dog crates' primary consideration relating to strength is the material used to make up the sides and the top. Yes, the frame is important but it's of secondary importance.
If you're anything like me you really don't like reading all that much so if that's you then you have the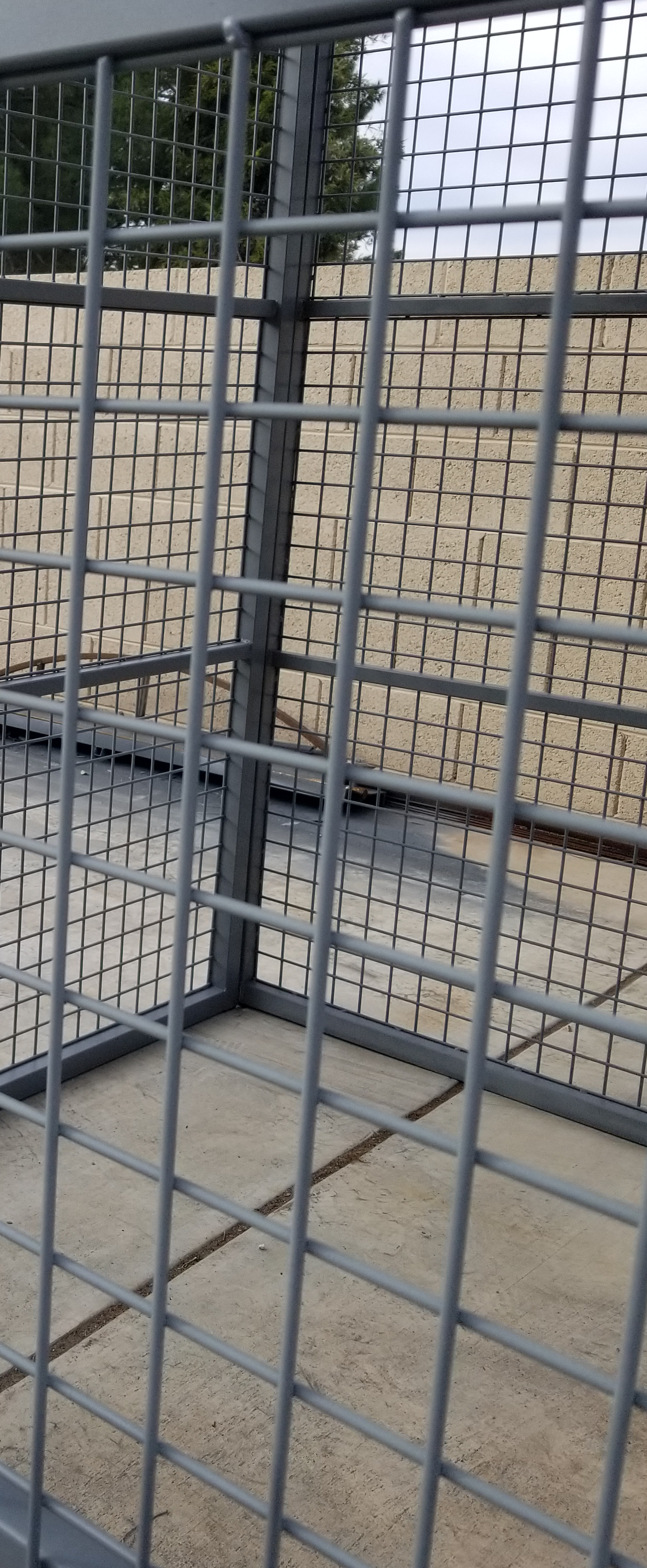 important decision making information above. If you want to learn more about what makes these crates the absolute best buy in the industry then read on.
It is essential to understand that "the wire" used in these dog crates is not anything like the wire crates you have used in the past. Many dog owners will look at these Xtreme crates and say to themselves: "Oh, that's a wire crate. My dog enjoys escaping from wire crates. He's already chewed through 3 wire crates." Nothing could be further from the truth. Your dog isn't getting out of these Xtreme® dog crates: EVER!
The welded wire mesh is welded to 16 gauge 1" metal uprights (the frame) all around the crate. This design provides the Xtreme holding power that we are so proud of, holding power unmatched in the industry.
The most important points about the wire are:
4.5 Gauge wire is used. 4.5 Gauge wire is almost a quarter of an inch thick.
Grid Size: The 4.5 gauge wire is welded to another wire of the same size every 2". Why is this important? Example: Let's say the wire was welded every 4". The grid would be 4 x 4. This would be strong enough to hold every dog but, Xtreme dog crates are welded every 2". This means there are twice as many welds at 2" then at 4". The result: The welded steel wire is twice as strong. These crates are strong enough to hold exotic animals.
It's all about wire size and spot welding. The reason thin wire crates can't hold dogs is that the wire gauge is so small there isn't enough wire to spot weld properly and the weld won't stand up against the push-pull pressure of an escape artist.
With 4.5 gauge wire that is almost a quarter inch in thickness, you will have almost a half inch of wire once the welding is done. Here's a chart explaining the decimal thickness steel wire.


THE DOOR
You're going to love this steel door! For Houdini escape artist dogs, the door is their first order of business. Dogs will almost always work the door first. It doesn't matter what kind of dog crate they're in; they will still chew, push, pull or headbutt the door. This occurs on a regular basis until the dog is convinced that the door is not a valid escape route.
Your dog will never scrape his or her back using this door!
The conclusion is that the heavy duty dog crate door needs equally as strong or stronger than other crate components. It will require a door lock that will keep the door closed 100% of the time. Many dogs are clever. Many times they will find a way to unlock their crate door. Yes, it has been known to happen. More about the lock a little later.

Great dog crate doors extend the full height of the crate. All too many crates are sold with doors so small that the dog scrapes his back going in and out of the door. This will never happen with any of our Xtreme dog crates. Please note the size of the door in the image here. This is one of the reasons dogs love our crates. Going in or out is no big deal to them. We believe the door is just one of the reasons why testimonials say their dogs settled surprisingly fast in our crates.
THE DOOR LOCK
The Schlage brand is a household word. Schlage is a premier lock manufacturer. The company was founded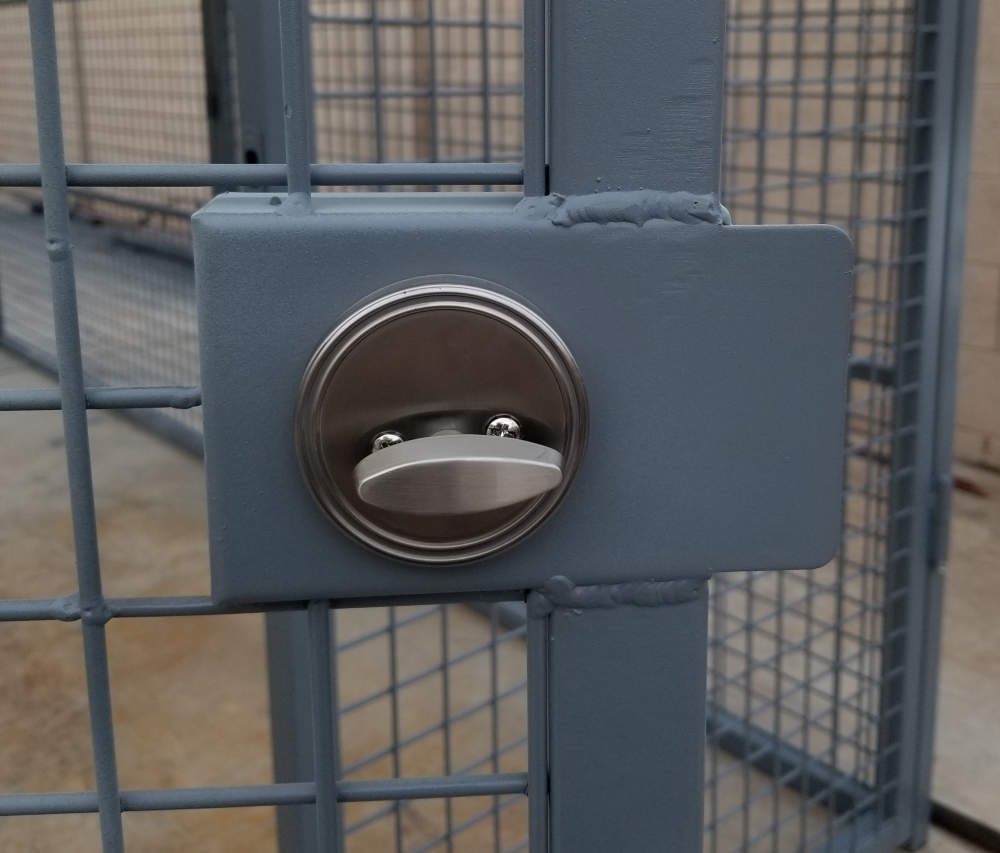 in 1920 by Walter Schlage in San Francisco.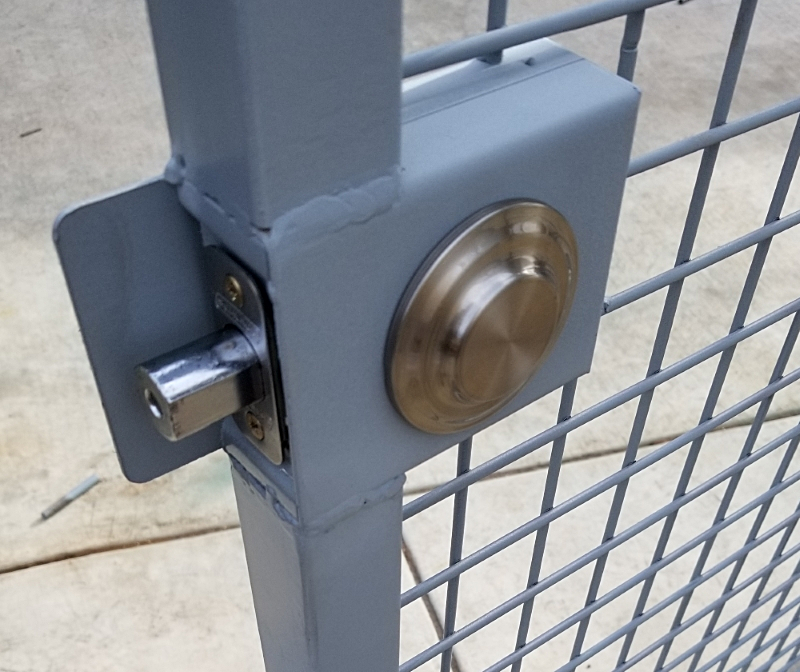 Schlage is one of the most popular brands of consumer and commercial locks in the United States.
Xtreme Dog Crates chose to use the strongest possible locking hardware to keep your crate door locked and your dog safe and secure inside. This means that you can breathe easy when you're not at home.
With the Schlage deadbolt locking mechanism, you know your dog will be in his or her crate when you get home.
Xtreme chose to use a Schlage deadbolt to lock the front doors on their line of strongest escape proof indestructible steel dog crates. There are tons of lower priced ways to keep a dog crate door closed that are not nearly as strong. Other manufacturers out there are still using them today. In case you're wondering, the deadbolt is smooth on the cargo side of the crate. There is no knob for your dog to turn or chew on.
DEADBOLT OPTIONS
One Non-Keyed Schlage deadbolt is included with each of our standard crates.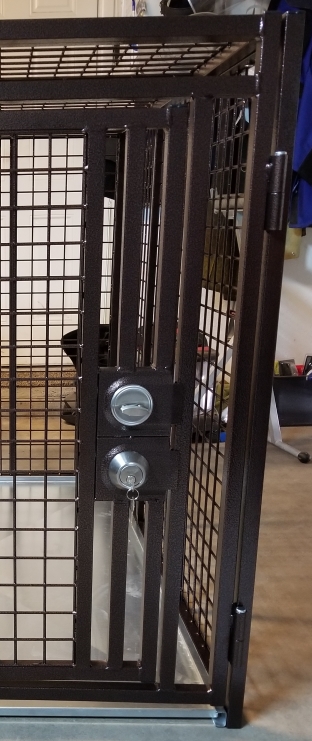 If you're a dog owner that thinks your dog might break

out of the door then, for your peace of mind, we offer deadbolt options. Please see the drop-down menu "Deadbolt Configuration" in the Add to Cart area. We know one deadbolt is enough but some take no chances.
Deadbolt Placement
Should you request 1 Non-Keyed and 1 Keyed Deadbolt be installed on your new crate please know that they will be placed very close together in the vertical center of the door frame. This will ensure lock integrity when only 1 lock is being used. This configuration allows the opening and closing of the door without dealing with the key each time. However, if you should need to lock the crate, the keyed deadbolt is there ready to be used.
When you have 2 deadbolts installed that are the same, both keyed or both keyless, they will be separated and placed equidistant on the vertical door frame. This provides equal door security at both the top and bottom door locations.
THE FLOOR
The floor of this beautiful heavy duty dog crate is an 18 gauge galvanized pan approximately 1/2" deep. It is held in with a special pin on the bottom of the crate. Your dog cannot kick this tray out! The galvanizing helps keep the bottom looking good. It does have the ability to catch the mess should your dog have an accident while you're not at home. It has its own side rails.
COLOR
All of our standard sizes are now done in a handsome Copper Vien color. We felt this would be the best color for blending into most any home decor.
We know that some dog owners may wish to have a color more closely coordinated with their particular style and decor. We're offering a great selection of other colors. Please take into consideration that a color selection other than Copper Vien will place your new crate into the "custom" category. Production time for custom crates is 14 calendar days. If you make no color selection you will receive our standard Copper Vien textured color.
Just a few color samples which will not always look the same on all monitors. If you would like a custom color, just click below and choose your color. Please allow an extra week for custom colors. Thank you.
You can find the custom color chart here.
APPROXIMATE WEIGHTS
MAXI LARGE 48": 185 Lbs
GIANT MEGA MAX 54": 225 Lbs
GIANT SUPER MAX 60": 240 Lbs


Remember: The crates are collapsible so you're only carrying one piece at a time so weight isn't an issue.


SIZES
XTreme® crate sizes are shown in the top right "add to cart" area of this web page.
CUSTOM CRATES
Xtreme® stands ready to make any type and size crate you need. If you can explain it, we can make it. Please be sure to call for a quote at the toll-free number at the top of this page. No crate is too large or too small.
Here's a sample of our most recent custom crate. This Giant crate was made for a rescue agency. It was made to their specifications. It works for multiple dogs and giant breeds too.
Yes, it really is as big as it looks!


WARRANTY
With over 8 years of experience in the heavy duty crate industry, the #1 question among dog owners that have to contend with Separation Anxiety and Noise Phobia in their beloved pet is: "what if my dog breaks out of this crate, what then?" That's understandable since their dog has escaped out of anywhere from 1 to 6 different "so-called" heavy duty dog crates before.
Life will be different at your house when you put your dog into a genuine XTreme heavy duty dog crate!
These first quality Xtreme® escape proof, indestructible heavy duty dog crates have a 10-year replacement warranty. We will replace any damaged part during the 10-year period for the original owner. These Xtreme crates were designed for extreme dogs, the kind of dogs that can bring the house down around you. Bring on your extreme dogs, exotic animals, and others. They won't be getting out of these heavy duty dog crates. The warranty does not cover occasional rust since it does not affect crate function.
MEASURING YOUR DOG
Nobody likes returns, right? Shipping costs for customer returns are very high. If you need to return a crate, you will be paying freight 3 times, the total of which will be more than you paid for your crate.
So.... measure your dog!
To get the length dimension simply measure nose to butt then add 2 to 4 inches for comfort. Always "roundup." It's not worth the risk to go smaller and hope your dog will fit.
Typically the width and height will be proportionate to the length. Once you know the length, you should be okay. But, if you have concerns about the height of the crate, just measure your dog in a sitting position. Measure from the floor, up the straight front legs to the top of his or her head. Then add any additional inches for comfort.
How long does it take to get my new escape-proof heavy duty dog crate?
These indestructible heavy duty dog crates are made to order. The current lead time from order to shipping dock is: for standard sizes is 2to 3business weeks. If your new crate is a "custom" order, then please allow an additional week.
TESTIMONIALS
The following testimonials are real words from real people and real crate customers. The dogs in the images are real dogs. The photos were attached to the emails sent to us by those same real customers. We have not altered their words or their pictures in any way. If you're a customer, let us know what you think of your new XTreme Heavy Duty Dog Crate. If you're not a customer yet, what are you waiting for? Get your order in today.
....FROM PENNSYLVANIA
My dog suffered from minor separation anxiety for the first 5 years after adopting her. It was mild enough and didn't require any crates or give us any worry (crying, scratching at doors, barking out windows, etc.) but we recently moved across the state for a new job. New house + new town turned separation anxiety in to a nightmare.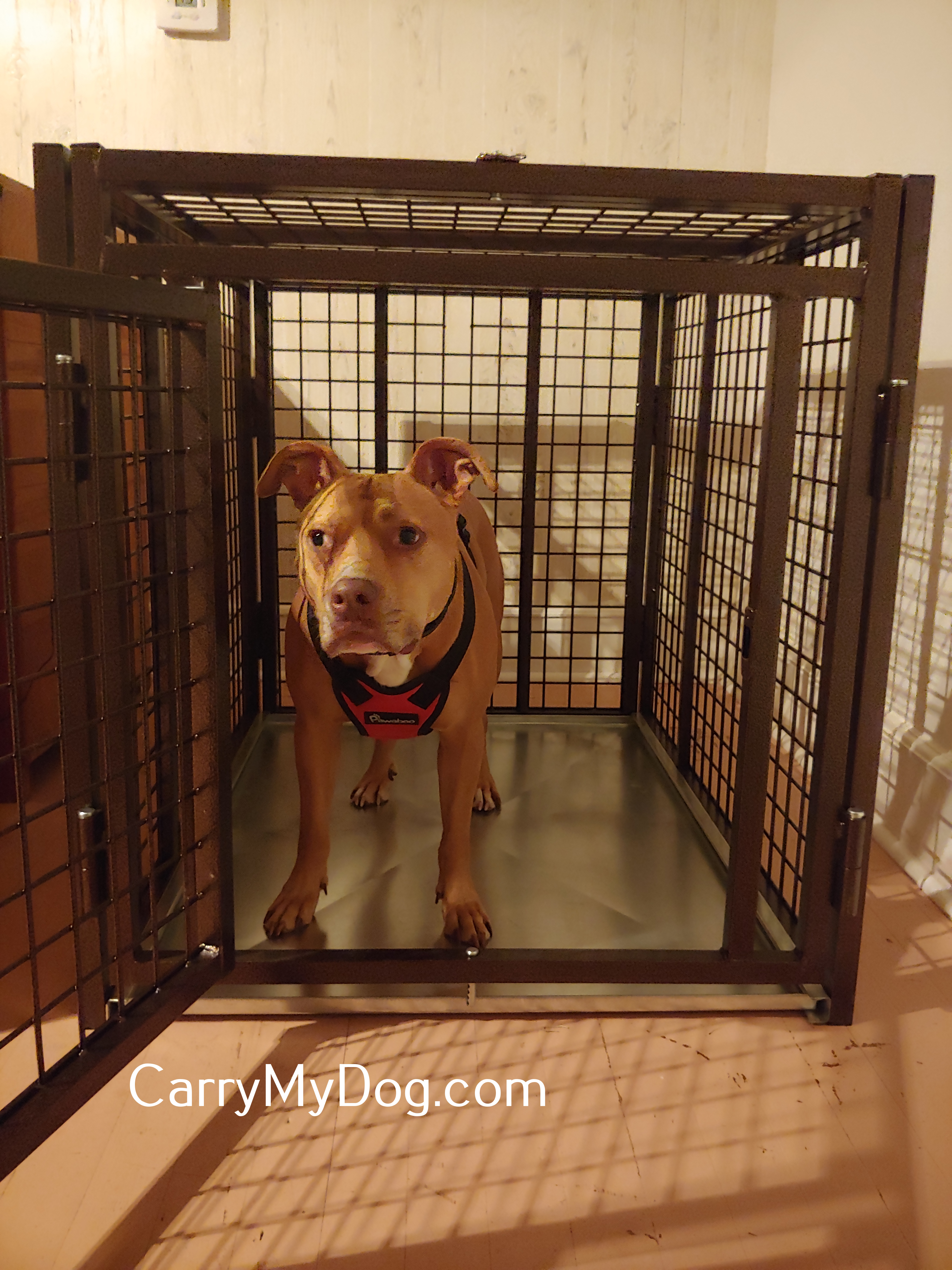 In the first week alone she had soiled the house, chewed through crates, doors, and doorknobs resulting in severely hurting herself while escaping the house and running free for hours! I started researching crates and came across CarryMyDog, and while extremely leery of the promise of escape-proof crates, I ordered a Medium Max for my 60 lb pit.
The crate was extremely easy to put together and I have to say - I had no reason to be apprehensive! This crate is the real deal - she has tried to dig her way out, tried to chew through the bars, tried to body slam the front - she has tried every possible way to escape and yet every evening when I get home from work, she's still in it!
I can now go to work without having to worry about her escaping and running amok. The drop-pin design is wonderful as well if you have a dog that soils themselves when panicked; easy to take apart, wash up, and put back together.
This crate is a life saver for dogs with separation anxiety. I've been telling anyone that will listen about it and am so glad that my pup can be home safe while I work to give her the luxurious life that she deserves. Thank you for making this fantastically constructed crate!
....Stephanie from Pennsylvania
FROM FLORIDA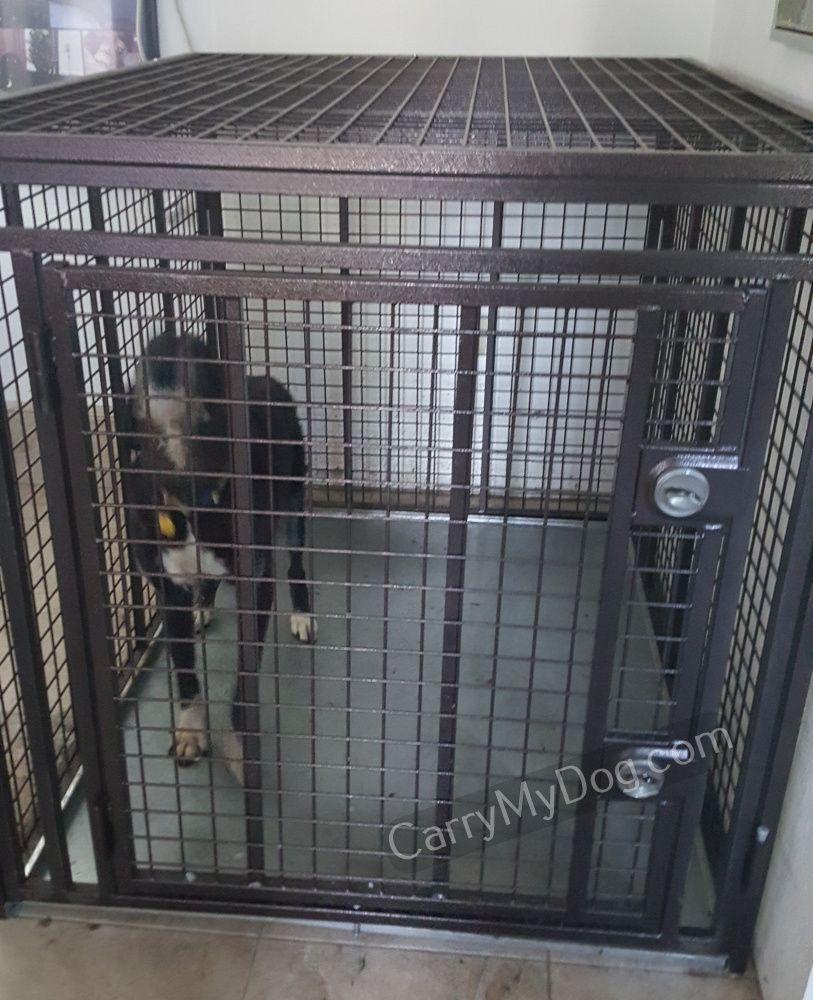 My 12 year old Lab decided he did not like a crate any longer, everyday he was escaping and tearing up my house. I was at wits end as to what to do, spent two months taking him to the Vets office to spend the day each day.
I found the Heavy Duty Crates online and I purchased the largest I could get for my Ozzy, I wanted him to have plenty of room and not feel enclosed or trapped.
He has been in his new crate (I call it his Taj Mahal) because it is so nice for two months or more now and he loves it, goes right in on command and I've had no issues.
We love the crate and would highly recommend it to anyone.
Sincerely,
....Jeff- Dunedin, Florida
FROM NEW YORK
Hi Bill,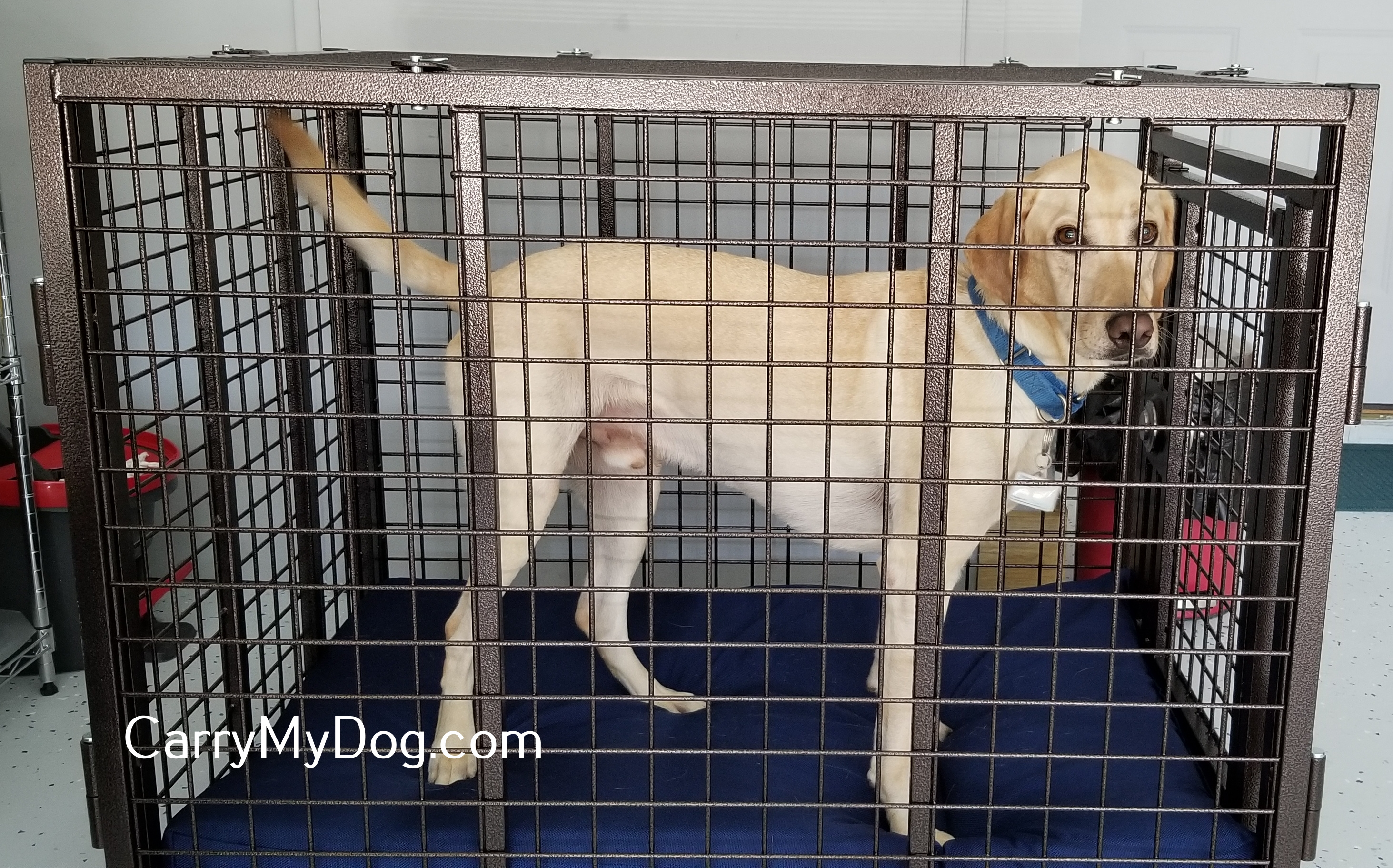 We got our crate. It was in great condition and looks awesome. Our dog went in it easily. You can't tell but he was waging his tail. Nicely made love it. Thanks for all your help appreciate it very much. I will definitely recommend you to people.
....Thomas from New York
FROM MONTANA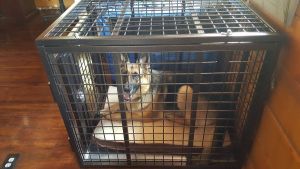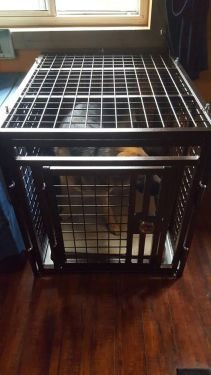 The escape proof crate that I won in the raffle has arrived. It is built to hold a gorilla!! I believe it is escape proof!
....R. Miller from Montana
FROM ARIZONA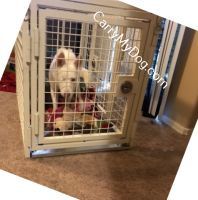 A little history on our "Eden." She was with a rescue Siberian Husky. She had been hit by a car. She lost her right eye. The vet thinks it may have affected her growth. She's much smaller than the average Husky. He believes she'll stay that way.
Our family adopted her a couple of months ago. She's already eaten her way out of 3 other crates. The night before last we came home to the brand new carpet in the living room demolished.
The kennel worked out great, My son got home from work and his dog was knocked out, asleep. She wore herself out. It worked out wonderful. I want to thank you guys so much for helping us out. We are very appreciative. Thank you a thousand times. Take care and nice doing business with you.
XTreme Dog Crates to the rescue: Saving dogs one crate at a time!! 😉
....Eden & Family from Arizona
....from WISCONSIN
Morning Bill,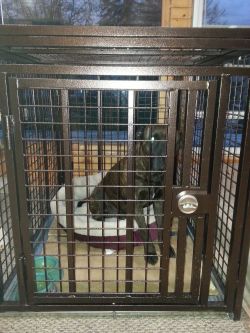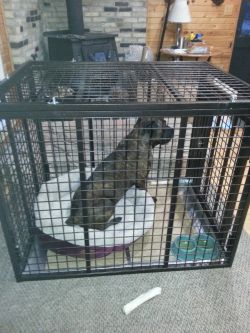 Sarge has been doing very well in his new "Castle". He always goes right in without a fuss and, as far as I can tell, he doesn't even bother trying to get out. I think he understands that he has no chance and the construction doesn't allow him anywhere to grab a hold of. I can't tell you the peace of mind of being able to come home and know that I won't have to add to my list of 4 windows, a door, a whole wall, 200+ feet of fencing, my brand new 55" 4K TV, and more, of destroyed items. With the easy to remove door, he even goes in there on his own when we are just hanging out. I think because of the size and construct, it feels more like a real secure room for him than a prison.
Anyway, I can't thank you guys enough for giving me my life back and the quick shipment. Between the security and the ridiculous ease of the put up and tear down, I simple couldn't recommend any other cage for people with anxious or problematic dog companions in their lives. Well worth the price. I have included a few pictures and, aside from needing a better shaped bed, you can see Sarge sitting pretty in his castle. The size really gives him a lot of room to move around in and I feel far less bad about putting him in there than I did the smaller crates.
Thanks again for your help. You gave me my life, and my dog, back to me.
John B. ....from WISCONSIN
....FROM TEXAS
Bill,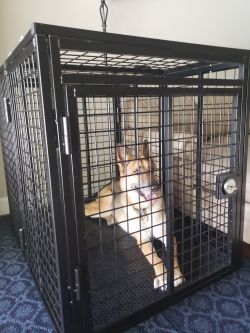 The folding collapsable escape proof (fully hand welded) crate has been a LIFE SAVER!!
This story may seem long, but it has a wonderful ending that we want to share with anyone that has a challenging fur buddy (or baby).
Our wonderful Riley, once had a best friend German Shepherd, Levi, who passed away from complications of the flooding during Hurricane Harvey. Riley has always had severe separation anxiety to the point that he has chewed holes in drywall, door trim, escaped every kennel we purchased previously, and broken out of all fenced enclosures. And believe me, there are many more stories. As a rescue German Shepherd, he was returned to the rescue group by 2 families prior to us adopting him. We were able to acclimate him to our home with Levi, who became his best friend and his therapy. They were a bonded pair immediately. We have all mourned the loss of Levi, and in the midst of all the loss from the flood, we had to move across the country to find work.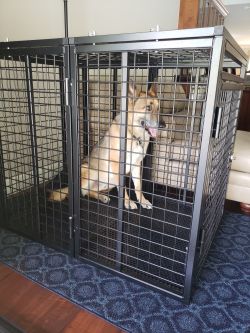 I started looking online for crates to try and figure out a way that I could leave Riley at home in a safe environment, and I found Bill Beavers website www.carrymydog.com. I proceeded to call him and he worked with me to fabricate a custom collapsable crate. We needed a collapsable crate that we could pack in the back of our SUV and still have room for Riley to lay on his bed (not in the crate). He delivered on what he promised us!! I wouldn't normally do this, but if you need a personal recommendation, call Bill and he can put you in contact with me. This is how strongly I believe in Bill and what he does. He stands behind his promises.
The crate does not have any sharp edges or any way that Riley can escape. The kennel is the safest place for him to be if he is not with his human friends. He actually is very comfortable in the crate and will willingly go in the crate on command (with a small treat of course). We know for a fact he is very calm in the kennel because we have monitored him with video cameras.
So, please, believe me when I say this, it is the BEST Crate that I have ever seen!
Thanks,
....Karen from HOUSTON
(this is Bill from CarryMyDog.com, and I need to tell everyone that the crate shown here, your crate, is not the crate being offered for sale on this page. This crate was a one-of-a-kind made especially for you and your special Riley. We will be offering this crate very soon. If you need a 48" heavy duty crate that will fit in a Toyota (i.e.) trunk, then give us a call.
....FROM ARIZONA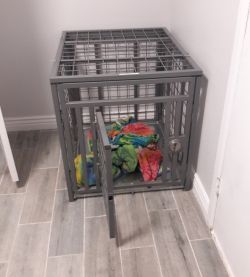 I have a Doxie-Beagle mix. You would think that he is not very strong by looking at him and given his breed, but boy did I have another think coming!
Dude has gone through 9 different cages in 3 years. He damages crate wires and the bars. He breaks, bends, and even eats them! Not only did he consistently breakout, but he would harm himself on the jagged metal that he created.
Going to work every day was a real struggle for me knowing that I was leaving him in a cage where he could easily harm himself. I would come home to cuts and scars on his face and paws. One time he broke a tooth on his cage and splattered blood everywhere.
He tears, bites and knaws on anything he can get his "hands" on while in the cage.
When he escapes his crate, he DESTROYS the house. He scratches, panics, screams, goes to the bathroom everywhere, and anything else you can think of - he's done that too!
I found Xtreme dog crates. They were such a blessing! The owners are very kind and worked with me on time. They realized my desperation and met with me after hours at the factory. They taught me how to assemble the cage. I have to say that it is beyond simple!
Now I feel relieved whenever I have to leave Dude at home in his new crate.
He is safe and cannot harm himself, the house, or the Xtreme dog cage. I have had my new cage for a little over 6 months now, and it still looks as new and undamaged as day 1! I WILL NEVER HAVE TO BUY ANOTHER CAGE AGAIN! I know these cages were a bit pricey for me but, they are worth every penny!
Thank you Xtreme Dog Crates for a great product!
....Samantha from Arizona
....FROM Maryland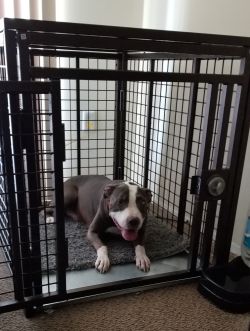 I have the sweetest dog in the world. It just so happens that the moment I have to step out and put him in a crate, he's a wild beast that doesn't want to be caged. He has severe separation anxiety and gets pretty destructive when left alone. I originally purchased an Impact dog crate in hopes that it would hold him for a few hours while I was at work or just not home, but he was able to pull the bars off of the door one by one until he got them all off and was just able to walk right through the door. These are not cheap dog crates here... I got no help from Impact Crate's manufacturer at all, but Bill Beavers was understanding and helped me by sending me an Xtreme Heavy Duty dog crate. Admittedly I was a bit intimidated when I came home and saw this HUGE crate boxed and fully assembled in my driveway, but taking it apart and putting together is literally a breeze. It took about 5 minutes to take it apart the first time and pretty much the same putting it back together. As soon as I gave it a good shake and tug I knew this was it, and as long as I'm home he'll go and chill out in it. This thing is great for my dog when I NEED to put him in it. I've had zero issues and don't expect to. Thanks Bill Beavers.
....Anthony from Maryland
....FROM MISSOURI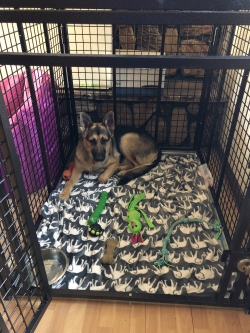 Bill,
I Love the cage and will be bringing it with us to NY when we visit family. It was a great investment and I'm so glad I did this!!
Lisa A.
....FROM ARKANSAS
Bill,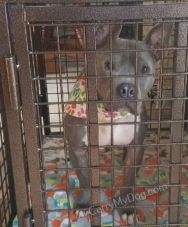 I would like to share with you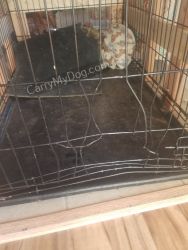 how happy we are with our new dog crate. This crate is awesome and you have made my family raving fans of this product.
We were at our wits end with our dog, which had destroyed two crates, one of which was heavily reinforced. This crate is truly amazing, the finish and craftsmanship is outstanding.
The photos online do not do justice to this crate. Once you put your hands on it you can feel the quality and strength. Our dog has calmed down greatly while being in this crate, and has less anxiety, and we are at peace knowing he cannot get out and that he is safe.
Attached are photos of one of the crates he destroyed and the other two of him in his new crate.
Billy & Brenda
....FROM INDIANA
Morning Bill,
I grew up with animals and will probably always have a pet in my life. There have been a few times when there are more furry kids living in my home than there are people and this is one of those times.
When we first met Leon he was in the Humane Society surrounded by barking friends while just sitting there extremely skinny and covered in sores. His papers showed that he was not available and was still being evaluated. The staff was not even able to answer any questions regarding him at the time.
After a visit every weekend for a month or so he finally showed
up on the website as adoptable. The next day we headed over and finally got to spend some time with this gentle giant and learn a bit about his background. The shelter had rescued a number of mastiffs from a South Korean meat farm that was being turned into a blueberry farm and Leon was one of the lucky ones to be brought over. Well we just fell in love with him right away and our two other pups took to him as well, so we brought him home that day.
Things are always hectic with a new dog, especially one who has never had a chance to be a puppy. Potty training kicked in easily, playing with others was going great and he was starting to finally gain the weight he needed. Just one thing wasn't working.
He kept escaping and breaking the crates. He went through 2 metal crates from the pet store and then finally the plastic one the shelter gave us that he was shipped over in.
The only thing that worked was leaving him in the space the other two were left in, which was the kitchen/dinning room. It looked promising......for a couple days. At first it was a few cookbook destroyed. Then somehow the coffee pot was taken down from the counter. Finally nothing stood a chance if left out, not even the new reclining reading chair. Every time we came home it was not a question of if, but what was destroyed.
It was time to do some research.
There are so many crates out there but we knew it had to be strong, big and secure. Most of the ones we thought of purchasing were hollow bars of steel. Well if this mastiff got a hold of those in his mouth he would have ripped them to shreds.
Finally one day I came across Carry My Dog's website and searched through their products. I felt as if I had finally found a
crate made by a dog owner who knew the kind of issues I have had to deal with. We ordered the Heavy Duty dog crate with two deadbolts and wire that is welded together at every crossing. Our only issues was delivery time. We needed it ASAP.
I emailed them about our issues and got a response right away. Bill Beavers worked with us to get our crate to us as soon as it was possible and we couldn't be happier in our home. When we leave the house with Leon in his crate we know not only is our house safe from him, but that he is safe and happy.
I can't thank Bill and his team enough for their product and for the professional yet personal way they worked with us.
Thank you,
....Dustin and Leon
....FROM KANSAS
This crate has been a godsend. I had already spent around seven hundred dollars on other crates that my Belgian Malinois, Houdini dog broke out of within a month. The few times I have had to put her in the crate, I have heard her banging hard on the doors looking for a weak spot. So far she has not found one and I don't think she ever will. On a side note Bill the very helpful owner who runs the website, carrymydog.com will do everything in his power to make you feel comfortable if you have a problem dog. I could not be more satisfied with the crate and the excellent customer service.
Thank you,
Brad from Kansas
....FROM INDIANA
Bill,
We received our crate and have used it for the last two days. THANK YOU SO MUCH. I will be sending you some photos and a review shortly. I can't tell you how much you have helped us.
Thanks,
....Dustin from Indiana
....FROM INDIANA
Bill,
The cage has worked out great and meets all of our needs. Zoey, a Belgian Malinois, is a big 8-month-old.
The attention to detail on the design and craftsmanship is excellent. We are very pleased with this purchase, as Zoey has destroyed or escaped from wire cages in the past.
Yes, it is a high price to pay but overall its an investment to secure our pet while we are away from home, which saves our furniture and keeps her safe.
She is huge and yes, if left alone in the house she has chewed on the furniture at my daughter's place. The cage is a huge blessing for our furniture and keeps her from hurting herself too. I have a husky (half the size of Zoey) too and they have
become best friends.
....Danny from Indiana
....FROM ARIZONA
I love this crate! I can't say this enough times, really it was the answer to my Houdini dog problem. I have a 75-pound rescue pit bull that could get out of any crate I bought him. On top of this, he's claustrophobic so I had to buy crates that had room for him.
This is the only crate I've bought that he absolutely cannot get out of.
The crate is well built, solid (and I mean solid your dog will not be getting out on his or her own), my dog loves to hang out in it and it even looks pretty! I have peace of mind knowing my dog cannot escape this crate. The bottom pan doesn't move, so he can't force his way out of it :).
I love that it's heavy duty so not only can my dog not get out of it, but I'm going to have it for many years to come. This crate also has open slats that I can reach in and pet my dog or give him a cookie but he is still secure.
The door on this crate is exceptional, I can easily open and shut it and the latch is easy to lock. On top of all of this, the customer service I have received has been absolutely top notch. They went above and beyond to help me solve my crating issues. This is 100% the crate that will keep your dog secure.
....Alex from Arizona
....FROM NEW YORK
Hello Bill,
My husband Robert recently worked with you on a crate for our dog, Frankie. Frankie has severe separation anxiety and is very destructive when left alone. She has been escaping crates since she was just 35#. Now she is 100#+. We gave up on crates for a while but then Frankie started eating everything in site.
Some of the notables are picture frames, colored pencils, unknown pieces of mail, socks, remote control, cell phone, several flip-flops, etc. When she finally chewed up a night light, bulb and all, we knew we had to do something extraordinary.
First, we got pet insurance, and then we ordered our crate from you. It has been easy to get her in the crate because she truly believes she'll be able to get out. She can't! So far, so good. We are cautiously optimistic that this crate is going to work out. Our friends are taking bets. She hasn't calmed down in the crate yet, but she is a very determined dog, so
I am hoping/thinking it's just a matter of time. I would love to tell you that this dog loves the crate and everything is wonderful. She doesn't like it, but it's doing what it's supposed to do, so far! That makes us happy because Frankie is safe.
Thank you so much! We will keep you updated!
Makensie from New York
Hello Makensie,
Thank you for your testimonial update on Frankie. We have total confidence in the crate. Believe me, you have no worries about Frankie escaping. Please do let us know how it's going in a month or so. Thank you.
Bill ....CarryMyDog.com
....FROM CALIFORNIA
I have a 55 lb Shepherd that destroyed every dog kennel I put her in.
She is a high energy high anxiety dog. Every time she destroyed a kennel, I would spend even more money on what I thought was a stronger heavier duty built kennel from the last. Each time she would chew the steel bars, break welds, bend doors, rip out bolts etc... She is no joke when it comes to destroying a kennel! Not only did she destroy hundreds of dollars in Kennels but she also destroyed the house after she would escape. She has torn down our blinds, chewed up brand new expensive shoes, and the list could go on... She is a free dog that has literally cost us thousands because of this. That being said, She is amazing and worth every penny!
Thankfully X-Treme Dog Crates was our solution! I wish we had bought one much sooner.
First and foremost the owners of the company are amazing people. They are good communicators and they do what they say. No jerking you around. I'm lucky that I'm only 1 state away from them (6 hours away) and so I was able to get my crate very quickly. I ordered the crate on Monday and I had my crate Friday the same week by 1pm. My crate was made after my purchase and it was in my home in less than a week. The owners not only worked with me on shipping, but one of the owners personally drove 6 hours to my home for delivery. That is a 12-hour drive for him round trip. He called me and let me know he was an hour out from arriving. The best customer service you will find anywhere.
Once he arrived, he helped me bring in the crate and showed me how to assemble it.
As awesome as it was that he did this for me, it was totally unnecessary. This thing is so easy to assemble that somebody who is not mechanically inclined at all could do it without frustration. It's literally a slap together and pin it scenario. NO TOOLS are used to assemble. Once you put it together once, you won't forget. Not only that but you can take it apart and reassemble in about 2 minutes is my guess. I love that it's made in the USA by hand and it all goes together precisely as it should!
The quality is 2nd to none! The quality of materials to the quality of craftsmanship, everything has been so well thought out... Every little detail has been thought of and addressed. Each and every weld is perfect! Nowhere is there anything that will hurt my dog. No burs, no small holes to catch my dogs claws. The door is tight and secure with no rattles. This crate is as sturdy as you can get. She loves that she can stick her nose out of the open slot above the door. The design of the crate really keeps her anxiety lower than all of her previous kennels. The smaller steel mesh is much thicker then the normal standard crates that most people buy. Dogs learn quickly not to mess with it. There's no give at all and it's not going anywhere.
I'm so happy with this new crate! You could say that I'm X-Tremely pleased!
For the first time in months I can leave my home and feel comfortable knowing that my dog is ok. My home is not being destroyed. I have nothing to fix, and I don't have any surprise money draining out of my bank account. This crate will last forever through many dogs lifetimes and I am very happy with my purchase! It was worth every penny!
John from California
....FROM COLORADO
Well, he shredded his bed and chewed up his cone, but he did NOT break out of the crate! At last, something he can't eat through.
Don't let this sweet face fool you. Ozzy is half pit bull and has jaws like steel traps. He can chew through anything. He also suffers terribly from separation anxiety. He has ripped the doors off of crates and climbed over tall gates in order to get to us. Finally, we can leave the house with confidence knowing he is safe.
We were desperate to get our crate as soon as possible. Without it, we were basically
being held hostage at home by the dog because we couldn't leave him alone. Bill at CarryMyDog.com, was great. He answered all of my questions and made sure the crate was shipped to us as soon as possible.
One thing we really like about the Xtreme crate is that it is very open and tall. We know many dogs feel better when they are in an enclosed space, but Ozzy is the opposite. Closed, dark spaces make him very stressed. This crate gives him ample room and does not make him feel like he is in a prison. We are very happy with our purchase. It is costly, but not as expensive as replacing several crates or a couch.
-Sue and Bryan
....From Massachusetts
Hi Bill,
Winston's X-TREME crate arrived today. Delivery was on time and contents in great condition (thanks in no small part to the handlers that packed the truck, and the perfectionist job you folks did at packing!)
I read through the pamphlet you sent in the card, and the crate was inspected and assembled in under 5 minutes! Not a paint scrape, single sharp burr, not a single sloppy weld, every hinge and bore aligned... excellent craftsmanship!
Now, Winston is rescued Bullmastiff x Amstaff, about 90 lbs, literally all muscle, and has fairly bad separation anxiety. He can bend and break bars, crack welds
and pull off plates on other wire crates. Plastic doesnt stand a chance, he'll chew through in short order He has shredded 24 gauge aluminum plate, and bent 20 guage steel plate that i have used to reinforce other crates. He will escape, and chew off doorknobs and molding in an attempt to get out to find me, and has done alot of damage to his teeth in the process.
That said, I'm reasonably certain we will -never- have to purchase another crate, and -never- worry about escape or injury again. Thank you for making fabricating such a great product!
-Bob V.
Shipping cost:
$250 ships any of these super strong heavy duty crates anywhere in the lower contiguous 48 states.
Taxes
No taxes, at this time, except for those customers residing in Missouri.
International Shipping
We are now shipping XTreme dog crates to Canada and Mexico. If you are in Canada or Mexico and need one of these very special indestructible heavy duty dog crates, we will need to do a freight quote for you or, we can ship to a border town and you can pick it up there and take it home. To get your freight quote quick and easy just call us at the toll-free number at the top of this page.
~Special Note & Disclaimer regarding custom sized crates~Read this before you order.
Standard Crates: There is a 25% cancellation fee should you cancel for any reason. It will be deducted from your refund.
Custom Crates: There are no cancelations on custom crate orders.
You are here because you need to confine your Separation Anxiety or Noise Phobic dog. You have found the strongest steel crate for your best friend. Put yours on order today! And, don't forget about that dig proof heavy duty crate pad.