QUICK OVERVIEW
Xtreme™ Dog Crates are the strongest heavy-duty crates made today. They hold the strongest & largest Houdini dogs, guaranteed. 100% steel construction means they are indestructible. These strongest dog crates are the most durable, most robust dog crates available today.
Xtreme® dog crates mean no escapes, ever! These crates are constructed using field-tested designs and materials to contain the strongest escape artist Houdini dogs. Yes, they are made of indestructible steel so they have a 5 year No Escape warranty.
Xtreme heavy-duty dog crates are the best possible tool for the management of K9 Separation Anxiety and Noise Phobic dogs. Designed to be collapsible (quick take-apart) heavy-duty dog crates use a Drop-Pin design which means that you no longer need to worry about getting the big heavy-duty steel dog crate through your front door. You never lose kennel strength from the take apart drop pin feature.
BREAKING NEWS!
Xtreme® Dog Crates is now using14 gauge steel tube in all their escape-proof indestructible heavy duty dog crates. The 14 gauge steel tube replaces the 16 gauge that had been used previously. For any that may not know the significance of this, the lower the number the stronger the metal tube. The Xtreme dog crates just got even more escape proof and continue to be even more durable & indestructible. Find out what gauge is used in that $200 crate you're thinking of purchasing. Make the comparison! "If a $200 crate would hold your dog, everyone would be selling $200 crates." There's a reason why you need the strongest heavy duty dog crate.

"We No Longer Powder Coat our Crates!"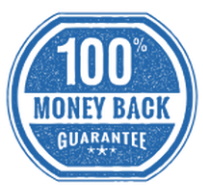 DETAILS
Xtreme® heavy-duty dog crates are constructed using field-tested designs and materials which will contain the strongest of escape artist dogs: every dog - every time. The combination of materials and design makes these crates escape-proof, indestructible, and guaranteed to hold your dog no matter the size, strength or level of aggression.
The construction of these collapsible heavy-duty steel dog crates uses the Drop-Pin design. They're unmatched in the industry for strength and durability. Made of 4.5 gauge welded wire over 16 gauge square tubing makes for the strongest dog crates available anywhere.
If you need the best, the strongest dog crates made, you've found them and, you can only get them here at carrymydog.com. Get your order in today!
STRONGEST HEAVY-DUTY DOG CRATE ESCAPE-PROOF, INDESTRUCTIBLE
GIANT BREEDS
Have a Giant breed dog? Learn about our Giant crate models used to contain and manage the largest, the strongest, and the fiercest of the giant breeds with or without separation anxiety.
CUSTOMER VIDEO
The following video was sent to us by one of our customers. Jennifer is the owner and trainer at Complete Dog Obedience in Alameda, CA. She explains why she purchased this Giant crate for her Malinois. Note: Our standard size heavy duty crates are built the same as the Giant crates with one exception: The Giant 60-inch crates have 2 non-keyed deadbolts. Here's your video.
FEATURES
Escape Proof design and material
Indestructible steel
Drop-Pin design means - No Tools Required for assembly or disassembly
The crate is welded everywhere metal touches metal
Sturdy 14 gauge square steel-reinforced frame tubing
Powerful Schlage deadbolt - the door stays locked
The collapsible feature means easy take-apart for storage or transport
Take apart or assemble in 5 minutes or less
Collapsible means it will fit through any existing door
Powder-coated for rust resistance & long life
Guaranteed No Escape Warranty to the original purchaser for the life of your dog
Custom designs & sizes are available. Call for quotes.
These strongest steel crates are welded everywhere metal touches metal!
Learn what our customers think of these strongest heavy-duty dog crates.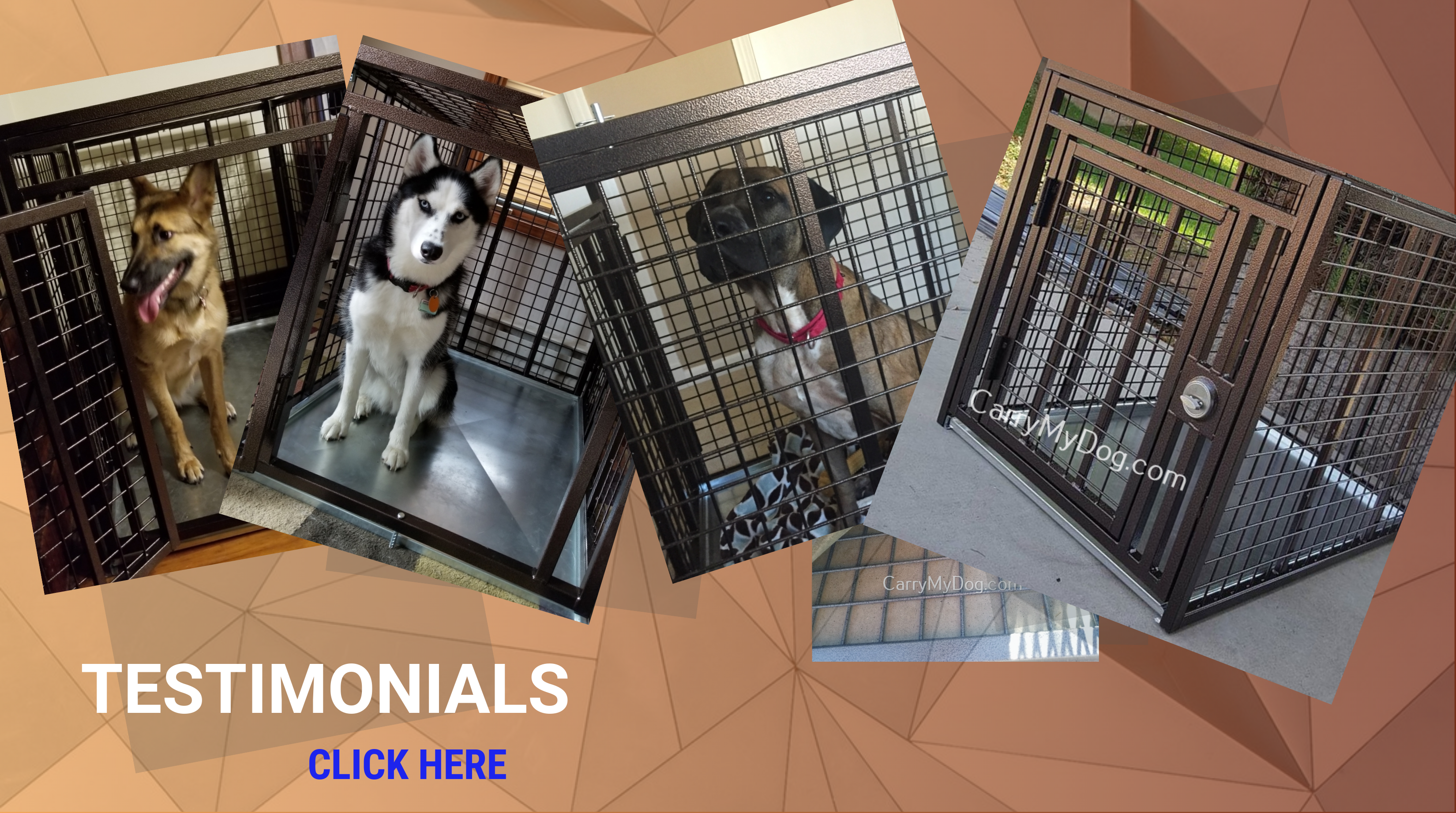 ASSEMBLY & COLLAPSIBILITY
DROP-PIN DESIGN MEANS NO TOOLS ARE REQUIRED!
Assembly is so quick and easy with the Xtreme® Drop Pin design. Just line up the hinges then drop the pin in the holes. It couldn't be easier. The average assembly time is 5 minutes or less for the average person. Enjoy this short assembly video then assemble your new XTreme heavy duty steel dog crate without tools!
You can take apart separate the 6 sections by removing the pins that hold it together. The parts are now ready to be stacked for transport or storage.
The fact that the crate is "collapsible" is a definite bonus. If you watch the following video now, you will quickly see why this heavy-duty dog crate is stronger than crates requiring assembly using bolts, washers, and nuts, and tools.
MORE ABOUT SOME OF THESE IMPORTANT FEATURES
THE WIRE
Every dog crate's primary consideration relating to strength is the material used to make up the sides and the top. Yes, the frame is important but it's of secondary importance.
If you're anything like me you really don't like reading all that much so if that's you then you have the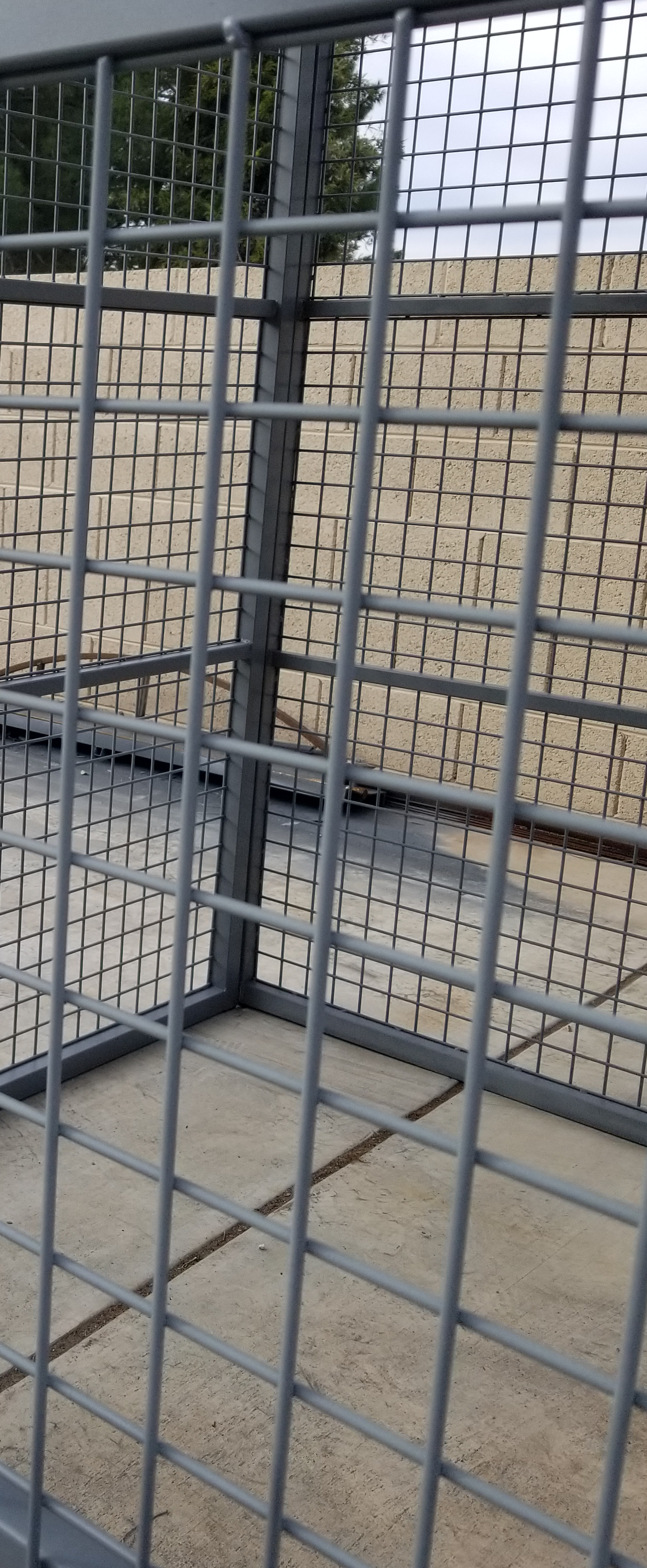 important decision-making information above. If you want to learn more about what makes these crates the absolute best buy in the industry then read on.
It is essential to understand that "the wire" used in these dog crates is not anything like the wire crates you have used in the past. Many dog owners will look at these Xtreme crates and say to themselves: "Oh, that's a wire crate. My dog enjoys escaping from wire crates. He's already chewed through 3 wire crates." Nothing could be further from the truth. Your dog isn't getting out of these Xtreme® dog crates: EVER!
The welded wire mesh is welded to 14 gauge 1 1/2" metal uprights (the frame) all around the crate. This design provides the Xtreme holding power that we are so proud of, holding power unmatched in the industry.
The most important points about the wire are:
3/16" wire is used. 3/16" wire is almost a quarter of an inch thick.
Grid Size: The 3/16" wire is welded to another wire of the same size every 2". Why is this important? Example: Let's say the wire was welded every 4". The grid would be 4 x 4. This would be strong enough to hold every dog but, Xtreme dog crates are welded every 2". This means there are twice as many welds at 2" than there are at 4". The result: The welded steel wire is twice as strong. These crates are strong enough to hold exotic animals. NOTE: During the current supply chain issues, we have been forced to go to 2" x 4" welded steel wire. Hopefully, we will be able to get or favorite 2 x 2 welded wire sometime in the future. You should always know that Xtreme crates and kennels will always be the strongest-built products on the market!
It's all about wire size and spot welding. The reason thin wire crates can't hold dogs is that the wire gauge is so small there isn't enough wire to spot weld properly and the weld won't stand up against the push-pull pressure of an escape artist.
With 3/16" welded wire that is just under a quarter-inch in thickness, you will have almost a half-inch of wire once the welding is done.
THE DOOR
You're going to love this steel door! For Houdini escape artist dogs, the door is their first order of business. Dogs will almost always work the door first. It doesn't matter what kind of dog crate they're in; they will still chew, push, pull or headbutt the door. This occurs on a regular basis until the dog is convinced that the door is not a valid escape route.
Your dog will never scrape his or her back using this door!
The conclusion is that the heavy-duty dog crate door needs equally as strong or stronger than other crate components. It will require a door lock that will keep the door closed 100% of the time. Many dogs are clever. Many times they will find a way to unlock their crate door. Yes, it has been known to happen. More about the lock a little later.

Great dog crate doors extend the full height of the crate. All too many crates are sold with doors so small that the dog scrapes his back going in and out of the door. This will never happen with any of our Xtreme dog crates. Please note the size of the door in the image here. This is one of the reasons dogs love our crates. Going in or out is no big deal to them. We believe the door is just one of the reasons why testimonials say their dogs settled surprisingly fast in our crates.
THE DOOR LOCK
DOOR LOCK UPDATE: Several trainers have recommended that dog owners purchase their Xtreme heavy-duty crates with 2 deadbolts, one non-locking deadbolt for everyday convenience, and one keyed deadbolt for special situations. The door works and holds just fine with one deadbolt but consider this: Not only can you lock the crate door while you're gone, but you can also lock it when you have company over especially if small children are about. They love to turn knobs, don't they? So if you like your special dog to be away from visiting children and other dogs then making the 2nd lock a keyed deadbolt is the way to go.
The Schlage brand is a household word. Schlage is a premier lock manufacturer. The company was founded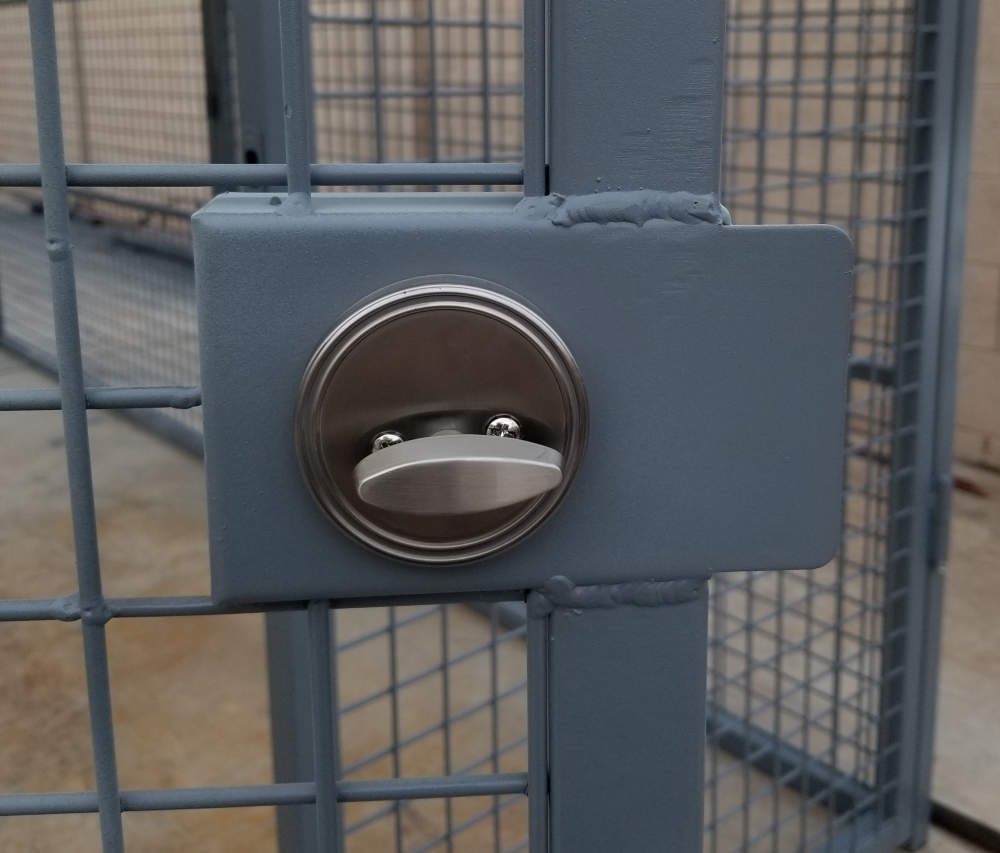 in 1920 by Walter Schlage in San Francisco.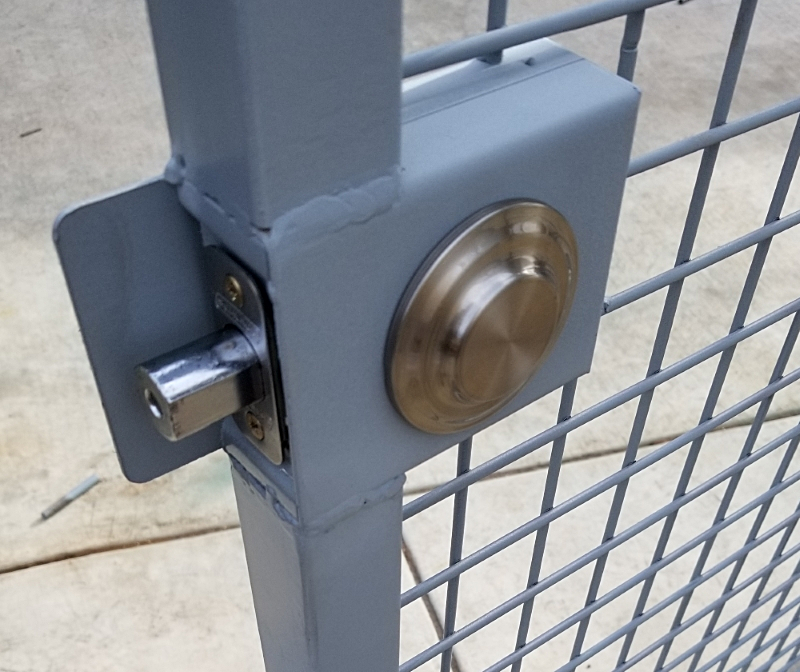 Schlage is one of the most popular brands of consumer and commercial locks in the United States.
Xtreme Dog Crates chose to use the strongest possible locking hardware to keep your crate door locked and your dog safe and secure inside. This means that you can breathe easily when you're not at home.
With the Schlage deadbolt locking mechanism, you know your dog will be in his or her crate when you get home.
Xtreme chose to use a Schlage deadbolt to lock the front doors on their line of strongest escape-proof indestructible steel dog crates. Many lower-priced ways to keep a dog crate door closed are not nearly as strong. Other manufacturers out there are still using them today. In case you're wondering, the deadbolt is smooth on the cargo side of the crate. There is no knob for your dog to turn or chew on.
DEADBOLT OPTIONS
One Non-Keyed Schlage deadbolt is included with each of our standard crates.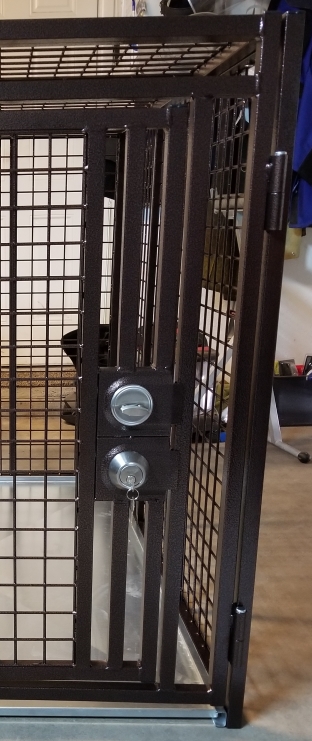 If you're a dog owner that thinks your dog might break

out of the door then, for your peace of mind, we offer deadbolt options. Please see the drop-down menu "Deadbolt Configuration" in the Add to Cart area. We know one deadbolt is enough but some take no chances.
Deadbolt Placement
Should you request 1 Non-Keyed and 1 Keyed Deadbolt be installed on your new crate please know that they will be placed very close together in the vertical center of the door frame. This will ensure lock integrity when only 1 lock is being used. This configuration allows the opening and closing of the door without dealing with the key each time. However, if you should need to lock the crate, the keyed deadbolt is there ready to be used.
When you have 2 deadbolts installed that are the same, both keyed or both keyless, they will be separated and placed equidistant on the vertical door frame. This provides equal door security at both the top and bottom door locations.
THE FLOOR
The floor of this beautiful heavy-duty dog crate is an 18-gauge galvanized pan approximately 1/2" deep. It is held in with a special pin on the bottom of the crate. Your dog cannot kick this tray out! The galvanizing helps keep the bottom looking good. It does have the ability to catch the mess should your dog have an accident while you're not at home. It has its own side rails.
COLOR
All of our standard sizes are now done in a handsome Antique Copper Vein Metallic. We felt this would be the best color for blending into most any home decor.
APPROXIMATE WEIGHTS
MAXI LARGE 48": 170 Lbs
GIANT MEGA MAX 54": 180 Lbs
GIANT SUPER MAX 60": 195 Lbs


Remember: The crates are collapsible so you're only carrying one piece at a time so weight isn't an issue.
SIZES
XTreme® crate sizes are shown in the top right "add to cart" area of this web page.
CUSTOM CRATES
Xtreme® stands ready to make any type and size crate you need. If you can explain it, we can make it. Please be sure to call for a quote at the toll-free number at the top of this page. No crate is too large or too small.
Here's a sample of our most recent custom crate. This Giant crate was made for a rescue agency. It was made to their specifications. It works for multiple dogs and giant breeds too.
Yes, it really is as big as it looks!
WARRANTY
With over 8 years of experience in the heavy-duty crate industry, the #1 question among High Anxiety K9 and Noise Phobic dog owners have is: "what if my dog breaks out of this crate, what then?" That's understandable since their dog has escaped out of every crate they've purchased so far, you know, those "so-called" heavy-duty dog crates.
Life will be different at your house when you put your dog into a genuine XTreme® heavy duty dog crate!
These first quality Xtreme® escape-proof, indestructible heavy-duty dog crates now have a Lifetime Warranty. Xtreme® Dog Crates will replace any damaged part during the life of your dog to the original owner. These Xtreme crates were designed for extreme dogs, the kind of dogs that can bring the house down around you. Bring on your extreme dogs, exotic animals, and others. They won't be getting out of these heavy-duty dog crates. The warranty does not cover occasional rust since it does not affect crate function.
MEASURING YOUR DOG
Nobody likes returns, right? Shipping costs for customer returns are very high. If you ordered a crate that turns out to be too small and you return it, you will be paying freight 3 times, the total of which will be more than you paid for your crate.
So please, measure your dog!
To get the length dimension simply measure nose to butt then add 2 to 4 inches for comfort. Always "round up." It's not worth the risk to go smaller and hope your dog will fit.
Typically the width and height will be proportionate to the length. Once you know the length, you should be okay. But, if you have concerns about the height of the crate, just measure your dog in a sitting position. Measure from the floor, up the straight front legs to the top of his or her head. Then add any additional inches for ears and for comfort.
How long does it take to get my new escape-proof heavy-duty dog crate?
These indestructible heavy-duty dog crates are made to order. The current lead time from order to shipping dock is: for standard sizes is 10 to 12 business weeks plus travel time. If your new crate is a "custom" order, then please allow an additional week.
Shipping cost:
$395 ships any of these super-strong heavy-duty crates to any address in the lower contiguous 48 states. Storage Fees: Any shipment left with the carrier for more than 48 hours will incur storage charges. As the customer, you will be responsible for any and all storage charges. If the shipment is returned to the shipper, the storage charges and the freight charges will be deducted from your refund. When the carrier calls you to set a delivery appointment, set an appointment then no fees will accrue.
Taxes
No taxes, at this time, except for those customers residing in Missouri.
International Shipping
We are now shipping XTreme dog crates to Alaska, Canada, and Mexico. If you are in any of these areas and need one of these very special indestructible heavy-duty dog crates, we will need to do a freight quote for you or, we can ship to a border town and you can pick it up there and take it home. To get your freight quote quick and easy just call us at the toll-free number at the top of this page.
~Special Note & Disclaimer regarding custom-sized crates~Read this before you order.
Standard Crates: There is a 25% cancellation fee should you cancel for any reason. It will be deducted from your refund.
Custom Crates: There are no cancelations on custom crate orders.
You are here because you need to confine your Separation Anxiety or Noise Phobic dog. You have found the strongest steel crate for your best friend. Put yours on order today!