XTreme® Heavy Duty Steel Collapsible Dog Crates Drop Pin Assembly No Tools Required - Ever! Assemble in 5 minutes.
There's a new sheriff in town when it comes to real heavy duty dog crates. Xtreme Dog Crates has introduced a line of super heavy duty steel dog crates that are second to none. They're a huge hit with owners of separation anxiety and noise phobic dogs. Just scan some of the crate testimonials at the bottom of the webpage.
I won't go into how the crates are built. You can learn more about that at carrymydog.com, the authorized dealer for the Xtreme Dog Crates. 
Here's how I sum up the strength of these crates: They're strong enough to hold anything you are strong enough to put inside. They most definitely are;
Escape Proof
Indestructible
They arrive with a durable layer of powder coating for rust prevention. You will appreciate the crate's good looks as well as its strength. 
Some of the options that are available for these great dog crates are;
Double Dead Bolts on the door
Colors of powder coating
Side Door
The folks over at Xtreme Dog Crates are happy to custom build any size or type of crate you need. 
Some dog owners are happy to hear that we ship to Canada and Mexico. Just call carrymydog.com for your freight quote.
And lastly, just a taste of the many testimonials over at Xtreme heavy duty dog crate page.
....I had finally found a crate made by a dog owner who knew the kind of issues I have had to deal with.  We ordered the Heavy Duty dog crate with two deadbolts and wire that is welded together at every crossing. When we leave the house with Leon in his crate we know not only is our home safe from him but that he is safe and happy. 
Read the rest of the testimonial here. 
Dustin from Indiana with Leon the Mastiff
....Danny from Indiana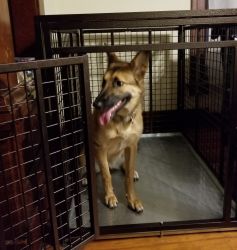 The attention to detail on the design and craftsmanship is excellent. We are very pleased with this purchase, as Zoey has destroyed or escaped from wire cages in the past.
She is huge, and yes, if left alone in the house she has chewed on the furniture at my daughter's place. The cage is a huge blessing for our furniture and keeps her from hurting herself too. 
.... Danny and Zoey
There are lots more testimonials and crates and dogs to see so stop by and have a look at the strongest heavy-duty steel crate made anywhere in the USA.
Get yours today!