Reasons You Need an Xtreme® Heavy Duty Dog Crate
You will want an Xtreme® heavy duty dog crate for your dog if you are one of the many dog owners that have rescued a beautiful dog only to find that he or she is suddenly destroying your home. Yes, you left him or her in a "so-called" heavy duty dog crate when you went to work. When you arrived home, you found your dog out of the crate and notable damage to your home. Your dog had quite a day trying to get out to find you. Unfortunately, this is what most dogs with Separation Anxiety do.
So now, on your drive home, you can feel your anxiety increase as you get closer to home, wondering what surprises await you. Will it be drapes on the floor or just mini blinds today? Will it be doorknobs or door facings as well? Has your dog found something to chew and swallow requiring an emergency visit to the vet? The examples go on and on. The negative possibilities are endless.
What To Do
You've bought three crates each time guaranteed to hold your dog, each time supposedly stronger than the last one. The result is always the same. You come home to a mangled crate and a high anxiety dog so happy to finally see you. Xtreme Dog Crates has the Escape Proof solution.
Here are some excerpts from customers that have found the solution, the best solution. Even if you're someone who believes in training the anxiety out of your dog, you still need to stop the damage to pet and property while you do.
This crate is the real deal - she has tried to dig her way out, tried to chew through the bars, tried to body slam the front - she has tried every possible way to escape and yet every evening when I get home from work, she's still in it!

I can now go to work without having to worry about her escaping and running amok.
Stephanie from Pennsylvania
And from Wisconsin:
I can't tell you the peace of mind of being able to come home and know that I won't have to add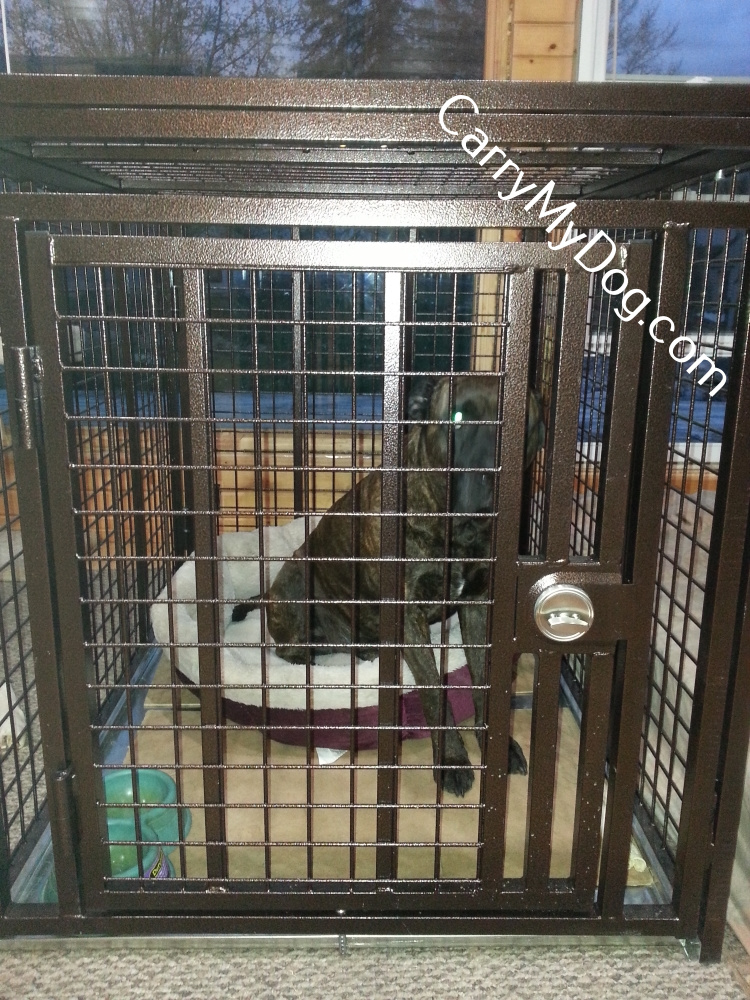 to my list of 4 windows, a door, a whole wall, 200+ feet of fencing, my brand new 55" 4K TV, and more, of destroyed items.
With the easy to remove the door, he even goes in there on his own when we are just hanging out. I think because of the size and construct, it feels more like a real secure room for him than a prison. Anyway, I can't thank you guys enough for giving me my life back and the quick shipment.
Between the security and the ridiculous ease of the put up and tear down, I simply couldn't recommend any other cage for people with anxious or problematic dog companions in their lives.
John B. ....from WISCONSIN
We could go on and on, but if you would like to read these and other testimonials from customers now enjoying peace of mind and a happy dog too, please go to our testimonials page.
The Xtreme® line of heavy-duty dog crates is guaranteed escape-proof for the life of your dog. This covers any breed and any size dog.
Xtreme dog crates will do custom crates, especially for your dog. If you know what you want, we can make it. Call for a quote on your custom crate. Get your peace of mind back. Start today at CarryMyDog.com, your exclusive Xtreme® Dog Crate dealer.