Heavy Duty Dog Crates - A Pricing Perspective
Some folks think that real heavy duty crates are expensive, too expensive.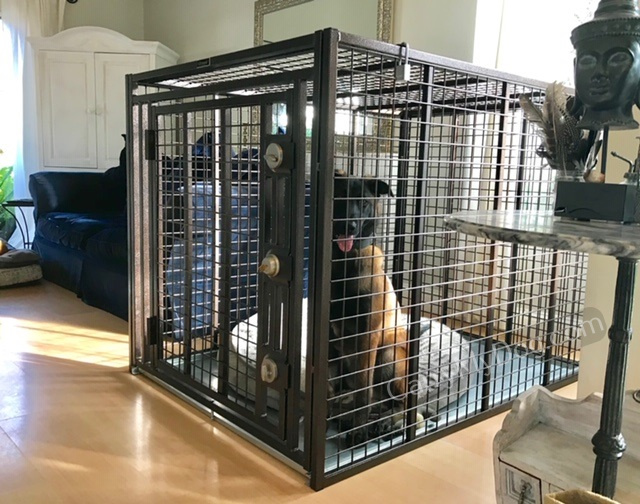 I think a bit of perspective is in order. To put it another way, let's explore a frame of reference here. A true heavy duty dog crate will give your family their lives back and perhaps save your dog's life at the same time.
I've been specializing in heavy duty dog crates for over 8 years now. Oh, the stories I've heard. While we aren't here today for stories, some do relate to our subject, the price of genuine heavy duty dog crates.
The Front Page Adventure
The front page is the page one lands on when visiting a website or following a URL web
address. When visitors get to www.carrymydog.com, the first thing they see is actually real heavy duty dog crates, the real deal. They start at $359 and go up from there. The typical big box or pet shop crate costs between $100 and $150. We can imagine your shock when you first see what real heavy duty dog crates cost. Many times you will quickly exit the page without seeing or reading anything but the price. You are off the page and down the yellow brick road in search of a $200 crate that will hold your escape artist dog. Guess what folks....it doesn't exist!
Before I get too far along here let me get to my point. How does anyone justify a price of $500 and up for a heavy duty dog crate? Remember, we are talking about dogs that have escaped every crate the owners have purchased. In some cases that could be as many as 4 to 6 crates, none of which successfully contained their dog.
In summary: If a $200 crate would hold your escape artist dog we would all be selling $200 crates! Think about that for a moment.
If you've already spent $300 or more on those "so-called" heavy duty crates, then it becomes harder to wrap your brain around the cost of a real heavy duty dog crate.
Here's what I think is the best way to address the subject of cost.

A True Heavy Duty Dog Crate is Cheaper Than............
A new couch: maybe he ate just an arm or maybe the whole couch. $1,600 minimum
A new recliner or any other upholstered furniture. $1,000 minimum
A new door and multiple door facings and or doorknob set $800 and up
Replacing windows after the dog has jumped out of one or more $600 or more
The vet bill for pulling broken teeth your dog got from escaping from the pet store crate $1,200 up to $2,000
Cheaper than the titanium tooth replacement if you choose to save the tooth $3,000
You have to leave the house. You have no choice; you have to go. You have no one to stay with your dog, so you take him with you. Auto upholstery repair $3,700
You went to work and left the dog loose in the house because you are still shopping for a crate that will hold him for under $400. While you're are gone, he manages to turn on a faucet. It runs all day. The cost: $25,000 plus motel expense for a month.
You just moved. It's a rental but a beautiful home just refurbished. You left your dog in a bedroom uncrated. You arrive home to find a 4' x 5' area just inside the bedroom door with no carpet plus damage to the door and door facing. Repair and replace carpet $1,000 is a conservative estimate.
You arrive home to find puddles of green vomit all over the house. Inside the vomit are what looks to be little pills. Yes, your dog managed to find a medication bottle of yours. Ate every pill then promptly began barfing them up all over the house. Holding a positive thought here and assuming the dog survived, the vet bill for pumping stomach, IV and other miscellaneous work $1,500 minimum.
You arrive home to find your dog obviously struggling and in pain. You look around for clues. You find a half-eaten hand towel. He has ingested the rest. The vet bill for surgery to remove foreign matter from the dog's stomach $3,000.
Your dog has escaped his pet store crate 3 times. You now have chains, wire, bunji cords and plastic zip ties all over the crate because., wait for it, you are shopping for a heavy duty crate cheaper than $500 bucks.
You arrive home, and yes, your crate alteration held but, he chewed the wires, got his head through but couldn't escape entirely. While trying to pull his head back inside the crate, the broken wires have jabbed him in the neck and back of his head. He is bloody. The vet bill for medication and stitches $600 minimum.
I could go on but I won't. Many of you can relate to something above, and yes, I do have many more examples of why $500 to $800 is a small price to pay for a heavy duty dog crate.
Just a side note: Once your dog has learned that escape is possible he or she can't "unlearn" it. So just know that the next crate you get will need to handle the full force of the dog's knowledge that it, in his or her mind, escape is possible.
The Good News
Some CarryMyDog.com customers have reported that their escape artist Houdini dog is now relaxing in the new heavy duty crate. They found that once the dog realizes that there will be no escaping the new crate, they relax and chill.
It is such a pleasure when customers report that they come home to find their dog sleeping in the crate. You could have a relaxed dog in just a few days. It seems the majority of dogs will relax once they understand there will be no escaping the new crate. It will take some dogs longer to get the message. Some dogs may never relax with the crate.
What about the Love Factor?
Something I would also like to bring to your attention is the fact that the overwhelming majority of separation anxiety dogs come from shelters. Yes, your Houdini dog is probably an adoption dog. He or she is the perfect angel you hoped they would be. Adopted dogs seem to give more unconditional love. Yes, they are perfect angels: until you leave the house. Once you leave the house, they turn into little devils, and all hell breaks loose. They want to find you. They need to find you.
From the many stories I've heard in the more than 8 years in the heavy duty dog crate business, I know that it can take up to a week for adults to fall in love with a shelter dog (perhaps any dog). Heck, I've done it in 24 hours or less. Plus, if there are children in the home that means we now have to pull out all the stops and take care of the dog no matter the cost.
Everybody wants to save a buck, right. How could a dog crate possibly cost over $500? After all, Google is filled with companies selling wire crates that they say are indestructible and escape proof for as little as $95. The typical wire/steel crate being called indestructible is around $250. Is it escape proof? Nope! Is it indestructible? No! So far search engines haven't decided to only list businesses that tell the truth. So you buy the $250 crate. In a week the crate is broken and your dog is out again. Hopefully, he escaped with all his teeth intact.
Ranger the Dog
Ranger, the dog has issues. Ranger suffers from canine separation, and is noise phobic. The pictures tell Ranger's story.
So today Ranger's owners say he loves his crate. He considers the crate "his space." He spends lots of time in it during the day with the door open of course. He stays in his crate while his owners are gone without hurting himself. He's one of those dogs that just chill now that he knows he can't escape the crate.
Where to from here?
You've now purchased the original pet store wire crate for $150 then the so-called indestructible crate for $250. You've spent $400 on crates so far.
If you buy another $250 crate you know, it won't work. If you buy a $600 crate that will be $1,000 total spent on dog crates. Wow...... who knew.
The point is simply this. When you adopted the dog, nobody told you he had separation anxiety and that he would change your environment and your life. Maybe the agency didn't know (likely) or maybe they just didn't want to tell you. Either way, it is a mute point. You must have a crate, a crate that will contain your dog. You need the peace of mind that knowing your dog has not destroyed your house or hurt themselves while you are at work. You need to drive home and open your front door without holding your breath afraid of what you might see inside. You need peace of mind!
Do Your Homework
I hope by now that I have demonstrated why it is so much better to get an actual escape proof and indestructible heavy duty dog crate rather than continuing to replace one cheap crate after another. Each time you get an inferior crate you are putting your dog at risk. Your dog can be seriously hurt in the escape process. The risk is the teeth. The bigger risk is the dog that gets halfway out and can't get back in the crate or continue the escape. I'm not here to scare you but to inform you. It has happened.
I have referenced crates at various price points. There are crates available for over $1,000. It is necessary to read as much about the crate and how it is constructed as possible. Determine what makes sense to you regarding strength, safety, and warranty. If you see a crate with a Lifetime Warranty, then that will be a crate worth checking into and reading more about. If you see a crate that has a 2-year replacement warranty check it out too. If a dog hasn't escaped the new heavy duty crate in 30 days, he probably never will.
No manufacturer is going to put a Lifetime Warranty on materials and workmanship if the crate won't hold up.
No manufacturer will put a 2-year replacement warranty (if your dog breaks it we will replace it) on a crate that won't hold your dog. Who would that make sense to? You don't offer a 2-year warranty on a crate that your dog can break in 2 weeks, 2 months or 2 years. Manufacturers put replacement warranties on products because they know the product is so good it will never need replacement!
Heavy duty aluminum crates are made from flat aluminum stock that is cut, punched designed and assembled in such a way that your dog cannot escape. You won't find these in stores so just read about how they are designed and built, and you will understand why they are more costly than "off the shelf" crates.
Why Purchase your crate from CarryMyDog.com
The price is the same or lower than the manufacturer
The product is the same
Some sizes are in our stock (24 hr. shipping)
The warranty is the same
Authorized dealer
Our Customer Service will exceed your expectations!
The heavy duty aluminum dog crates you will find here at CarryMyDog.com will get the job done. There are many styles and price points to choose from. Some are manufactured and used by the military and law enforcement. Feel free to order your crate here at CarryMyDog.com. Often we have the inventory of these strong crates and offer same day shipping. These crates are so popular that the wait time with the manufacturer is typically much longer than purchasing out of our stock.
The bottom line is simply this: Go cheap and know this won't be your last crate. Buy a first quality heavy duty dog crate at CarryMyDog.com and know that it will be the last crate you will ever need to buy. It's done........the crate will last for many years and in some cases a lifetime.
Thanks for stopping by. If you have a need, we hope to see you at www.carrymydog.com for your next real heavy duty dog crate.
If you have a question, please do give us a call at 800-664-1062.
If you have an escape artist, get your heavy duty dog crate now at CarryMyDog.com