QUICK OVERVIEW
AUTOSLIDE FOR YOUR FAMILY AND YOUR PETS
How often have you wished that your pets could let themselves out and back in again, by themselves? And this without cutting a hole in your house or using a third of your door walking space for a doggie door? How often do you let them out and back in again each day and night? Welcome, Autoslide!
How about when you or your wife has a tray of goodies on the way to the patio but, oops, no hands to open the door? Welcome, Autoslide! How about when someone is wheelchair-bound? It's difficult to reach over and open the door then close it back again. Now there's Autoslide!
There are so many applications for Autoslide. Here we are discussing pet applications. You will enjoy learning how an Autoslide door can upgrade the quality of life for you, your family, and your pets. This is a fun product.
DETAILS
Autoslide is designed to be a universal, easy-to-install product that retrofits your existing sliding doors. The patented Autoslide system is based on a simple "rack and pinion" design. Toothed tracks are attached to the active door panel, and then the Autoslide uses a cog that meshes into the tracks to push and pull your sliding door. To power the Autoslide, plug it into a regular wall outlet.
Easy 2 Piece Track / Track System

Aluminum Cover and Indicator Lights for 4 different Modes

24V Motor with gear(cog)

Simple one-step Sensor Learn Button

8 Dipswitches for Different Settings/Function

EASY-TO-USE AUTOMATIC SLIDING DOOR SYSTEM
(For Your Existing Sliding Doors at Home or the Office)
The Autoslide was explicitly invented to automate sliding doors and windows in the home. It can be attached to a sliding patio, pocket, and barn-style doors. Any sliding panel can now be automated with Autoslide. In addition to automating sliding doors in the home, the Autoslide can also be used in light-commercial environments, such as a doctor's office, if equipped with the Elite Motor.
MAKE YOUR AUTOSLIDE-EQUIPPED DOOR LOCK WHEN CLOSED
The Autoslide iLock was first introduced in 2015; the Autoslide iLock features an automatic locking door motor. No more hassles of having to use your manual sliding door lock.
The Autoslide iLock System will keep your door locked anytime the Autoslide is enabled in Normal or Pet Mode when the door is closed. Activating the Autoslide iLock system to open the doors will disengage the lock to allow access inside or outside the home. And not to worry, once the door closes again, the Autoslide will lock itself.
WHAT IF I HAVE A HEAVY DOOR OR A DOOR THAT DOESN'T SLIDE EASILY?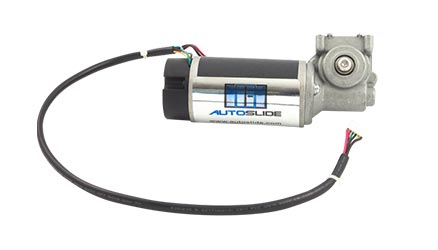 The Elite Motor is an upgrade to the standard Autoslide. It's for heavier doors and light-commercial environments. This motor can handle up to 55 lbs. of drag force. The standard Autoslide motor can handle up to 12 lbs. of drag force. Ask us for a Velcro Test Strap to determine which motor your door requires. This device is used to see if your door is under the 12 lbs. of drag force needed for the standard motor.
Test your door with a luggage or fish scale. Pull the door open and closed. Note the max amount of pounds the scale shows.
AUTOSLIDE PET SENSORS FOR YOUR DOG
To set your Autoslide so your dog can easily pass through your sliding door, you will need a pet sensor. The pet sensor fits on the dog's collar or harness. It tells the Autoslide to open the door as soon as your pet is in the proximity you have set. The door closes behind your pet and opens again when your dog wants back in.
Imagine:
No repetitive trips to the back door to let pets out then another trip to let them in.
No more cutting holes in your house so your dog can go out and come back in
No worries about what might be walking or crawling into your house while the door is open

No more scratched glass from the dog(s) wanting back in

Get rid of that huge dirty spot where your dog scratches and noses the glass door

Autoslide makes so many applications that it's difficult to fit them all into one video. The video below goes briefly over many, but not all, Autoslide products available here at carrymydog.com. Autoslide door openers are life-changing for you, your family, and your dog. Get yours today!