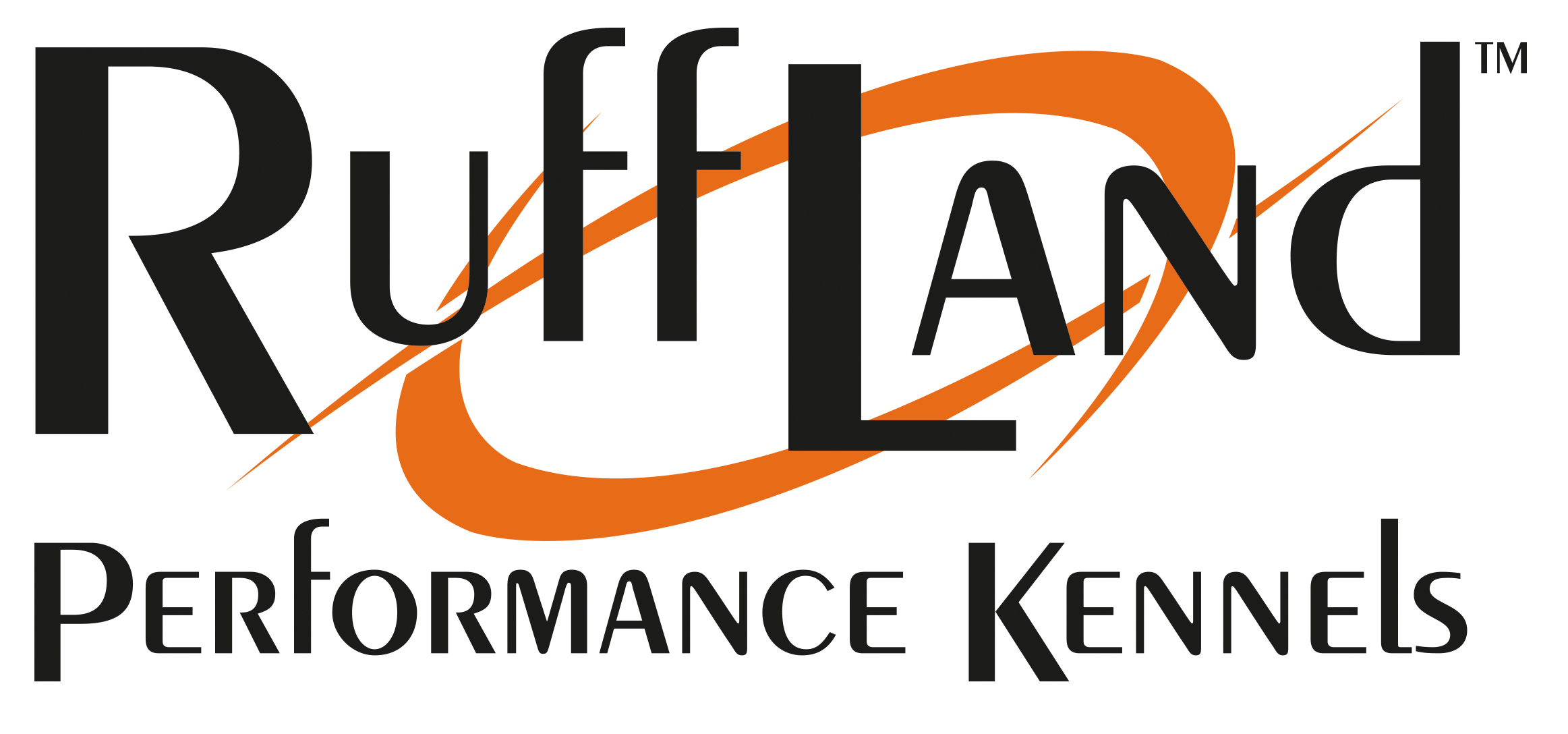 QUICK OVERVIEW
Ruff Tough Kennels are affordable travel dog kennels. Carry your dog in these strong, sturdy one-piece roto-molded dog transport kennels from Ruff Tough Kennels. They offer rugged, long-lasting performance around the house, in the field, and in your vehicle. Some kennel models are available with an extra door on the ends or the side for easy access and airflow. This is one of the most famous lines of dog transport kennels on the market today and, you always get FREE SHIPPING on all Ruff Land kennels here at carrymydog.com.
IMPORTANT NOTIFICATION: Ruff Tough Kennels is officially re-branding themselves, their products, and their name. Effective November 1, 2018, Ruff Tough Kennels will be renamed Ruff Land™ Performance Kennels. The newly named Ruff Land™ Performance Kennels boast features like ToughOne™ One-Piece Roto-Molded Construction and Ruff-Flex™ Energy Dissipation Technology and the same quality and craftsmanship that made Ruff Tough so highly coveted among dog owners.
We offer FREE SHIPPING on all Ruff Land kennels to the lower contiguous 48 states. That would eliminate shipping to Canada, Alaska, Hawaii, and the rest of the known universe.
CarryMyDog.com does not provide kennel sizing recommendations – please contact your veterinarian or trainer for kennel sizing advice or check out the Ruff Land Kennels sizing video.
Carrymydog.com will not be taking orders for Ruff Land Kennels until further notice.
The BACKSEAT RIDER™
Back Seat Location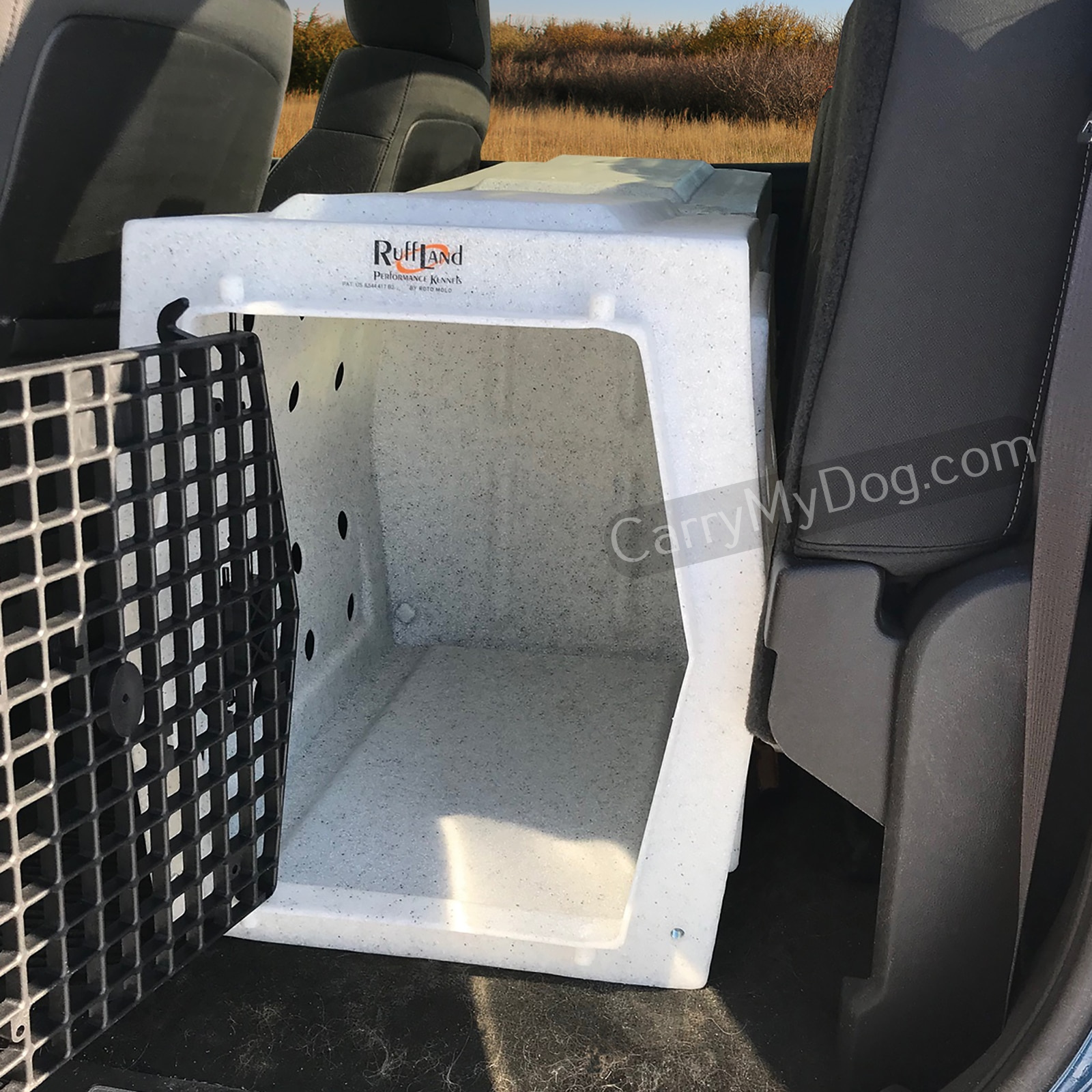 Backseat Rider is a bit shorter than the regular intermediate kennel.
Backseat Rider kennel is designed to fit behind the front seat in your standard size truck.
Very Important: two kennels can fit end-to-end in the back seat of most standard size trucks. Always measure before you buy.
On the Floor
Backseat Rider kennel is designed to fit in the floor of most trucks behind the front seat. That means your dog is warm in winter and cool in summer during the trips you take together.
Gone is the dust, the mud, dirt, and rain coming in when your dog was riding in the back of the truck.
DSSI: Dog | Safe | Secure | Inside
INSIDE DIMENSIONS
Length: 26"-Width: 17" at narrowest point - 19 3/4" at widest point-Height: 22"
OUTSIDE DIMENSIONS
Length: 28"-Width: 17 1/2" at narrowest point - 20 1/2" at widest point-Height: 23 3/8"
Now you can safely get your dog out of that dreaded "crumple zone!"
Ruff Land doesn't mention this but perhaps, just maybe there's a special place in your SUV for this new custom-sized kennel.
ORDER YOURS TODAY!

FREE SHIPPING ON ALL SIZES!
WANT A STRONGER DOOR?
The weakest point on any plastic kennel is the door. Ruff Land Performance Kennels has a couple of ways to strengthen the door area. The Side Latch Door Kit serves as a backup safety device. It provides a spot for a padlock in the center of the door. NOTE: The Side Latch Rod Kit for Ruff Land Performance Kennels fits composite doors only. Not available with the Small kennel.
To order or to see how the Side Latch Rod Kit works, check out this short video.
INTERMEDIATE DOUBLE DOOR LEFT SIDE & RIGHT SIDE
When would the Ruff Tough Kennels Intermediate Double Door Left Side & Right side entry be relevant? This photo says it all. Both Intermediates, 1 Left Side Entry, and 1 Right Side Entry with coupler kit. Although the image shows the kennels in the back of a truck, they will fit the same way in your SUV. For larger vehicles, these beautiful kennels stack nicely.




ABOUT THE KENNELS
All kennel sizes, except Small, comes with Composite doors.
If you wish to have a wire door, please look toward the bottom of this page under "replacement doors." Click the link, and you will be taken to the door page where you can learn more and order.
Your order will be shipped just as fast as possible. Custom kennels (holes & colors) up to 2-3 weeks.
See the kennel accessories available. They're listed at the bottom of this page.
Side Latch Rod Kits are not made for Small size kennels.
Since a picture is worth a thousand words, let's take a closer look at these fabulous kennels. You will understand what we mean when we use words like strong, rugged, sturdy, durable, and high performance in a plastic roto-molded dog kennel.
FEATURES
MORE ABOUT TESTING FROM THE MANUFACTURER
When dropped from a height of 12 feet, the Ruff Tough Kennel sustained no noticeable damage. We kept trying. After four drops, the kennel showed only scratches and stains from the concrete and grass. No splits or cracks were evident.
The Ruff Tough Kennel was fired at with a full choke charge of number 6's from about 15 paces. Even to my surprise, only a handful of pellets penetrated. The rest buried in the material. I was satisfied that it would provide maximum protection from a few errant pellets in a hunting situation.
I am not easily impressed with new equipment, but the simplicity of design and quality of manufacturing immediately caught my attention. I've owned and used dozens of portable kennels and have always looked for one that could withstand the abuse of trainers, handlers, and guides. Finally, something new that should get dog trainers and hunters excited.
The Ruff Land Performance Kennels are proven to be the best choice for the money when hunting, K9 transport, or just lounging at home. They deliver strength and durability unmatched by other plastic dog kennels.
DIMENSIONS and WEIGHTS
(All weights and sizes are approximate)
Small
Exterior: 22 1/4" L x 15 1/4" Widest Pointx 16" H
Interior: 21" L x 15" Widest Point x 13 1/4" H
Floor: 20 1/4" x14"
Weight: 10 Lbs
Mid-Size Kennel
Exterior: 24 1/4" x 16 1/2" Widest Point x 18"H
Interior: 22 1/2 x 16 1/4 Widest Point x 16"H
Floor: 22 1/2 x 14 1/2"
Weight: 14 Lbs.
Medium Kennel
Exterior: 27 1/2" L x 18 1/2" W Widest Point x 20" H
Interior:

25 1/2" L x 17 1/2" W Widest Point x 19" H

Floor: 25 3/8" x 15 1/2"

Weight: 17 Lbs
Intermediate
Exterior: 30 1/2" L x 20" W Widest Point x 22 1/2" H
Interior:

30"

L x 19 1/2" W Widest Point x 22" H
Floor: 28 1/2" x 17

1/2"

Weight: 20 Lbs
INTERMEDIATE BACKSEAT RIDER™
EXTERIOR: Length: 28" Width: 17 1/2" at narrowest point - 20 1/2" at widest point Height: 23 3/8"

INTERIOR: Length: 26" Width: 17" at narrowest point - 19 3/4" at widest point Height: 22"

WEIGHT: Approximately 17 lbs. FLOOR: 24 1/2 X 17 1/2"
Large
Exterior: 35" L x 22" W Widest Point x 26 1/4" H
Interior: 34" L x

21 1/4" W Widest Point x 25" H

Floor: 33" x 17 1/2"

Weight: 30 Lbs
X-Large
Exterior: 40 1/4" L x

22 1/4" W Widest Point x 30 1/2" H

Interior: 39" L x

22" W Widest Point x 28" H

Floor: 38 1/2" x 19"

Weight: 42 Lbs
Please note: Weights are approximate. The Large and X-Large kennels incur additional shipping cost due to size. While freight charges are not entirely free on the Large and X-Large kennels, CarryMyDog.com contributes approximately half the actual freight cost. The Small, Mid-Size, Medium, and Intermediate kennels ship free.
SELECTING THE PROPER SIZE KENNEL
This video will assist you in choosing the correct kennel for your dog. In addition, please do use the "nose to base of tail plus inches for comfort" to confirm the proper size

NOTE: This video describes size selection when the kennel is primarily used for transport. If you intend to use the kennel at home, we recommend you get a larger kennel for the benefit and comfort of your dog since your dog will probably be spending more time in the kennel while at home. Our suggestion for proper sizing is to measure from your dog's nose to the base of the tail then add inches for comfort. Select your size from the drop-down menu. Sizing is so important for your dog's comfort and because returns for exchange can be expensive.

ABOUT THE KENNEL FLOOR
This short video will show the kennel floor feature. I like to call it the "high and dry" floor design.
CLEANING YOUR RUFF TOUGH KENNEL


TESTIMONIALS
....New Jersey
Hi Bill!!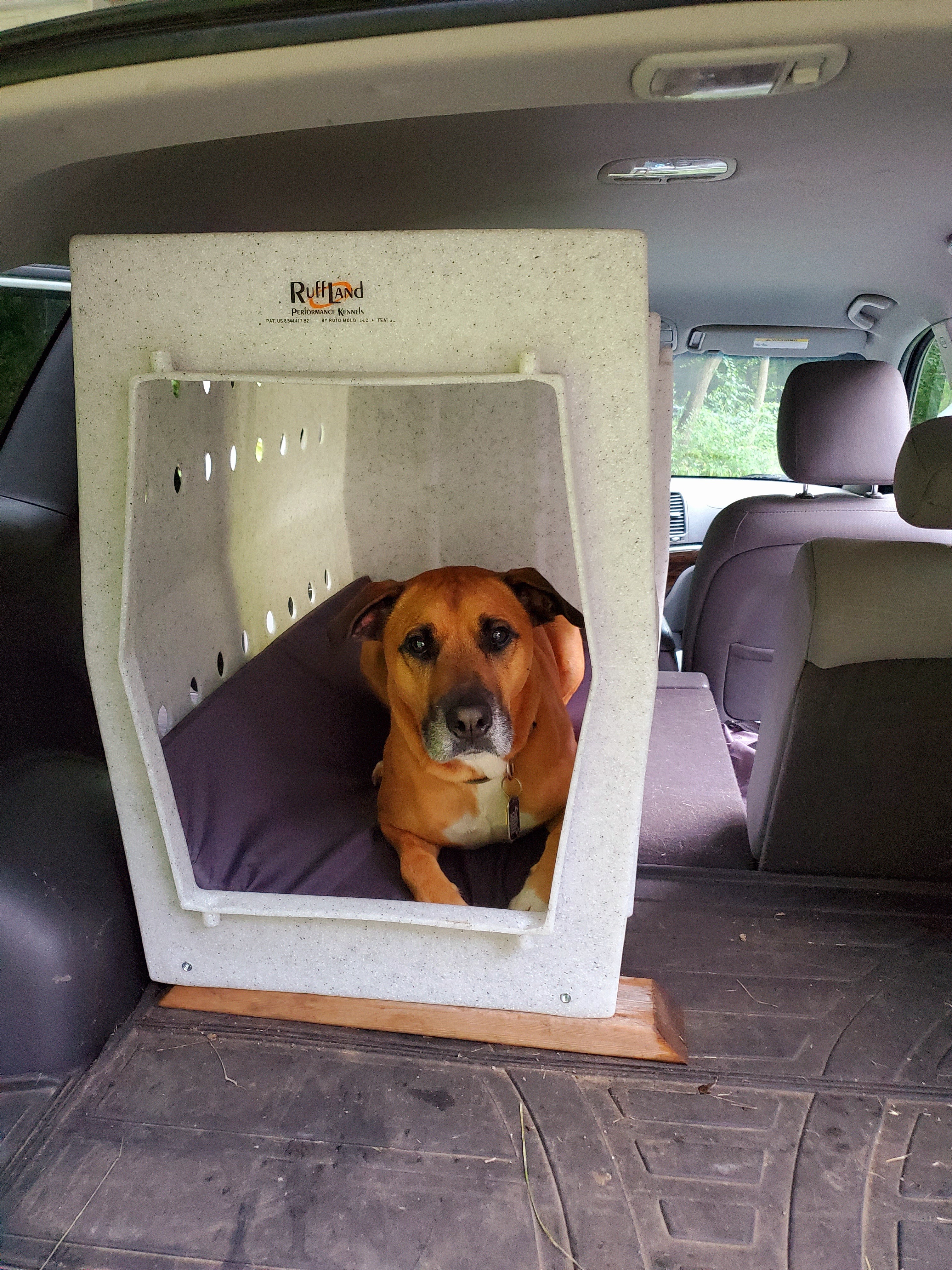 Odin and I just wanted to say thank you so much!!! I ordered the crate and it came within a week of placing the order, which I thought was super quick and very pleased with. I was worried that I wouldn't get it in time for our first long road trip together. Odin was a little nervous at first (hence no crate doors in the picture) but he is much better now and goes in and out without a problem and he is very comfortable riding in it. I was also easily able to ratchet strap it in for extra security. Thanks again for all the help and awesome customer service!
Samantha


Thank you for your excellent service! I greatly appreciated the timely order updates as well as the very fast shipping. We received our lime green Ruff Land Kennel earlier this afternoon.
I will definitely be ordering through Carry My Dog again in the future. I will be recommending the business to my dog friends too.
I've included a photo of my 6-month-old AmStaff puppy, Rune, with his snazzy new kennel.
- Joscelyn
Thanks so much, Joscelyn. We appreciate your kind words. You have a very handsome fellow there in a great kennel. All the best, Bill carrymydog.com
....Summer from KC, KS
Bill
It arrived today and my girl Paige is very happy!!!
Thanks
....Summer from Kansas
....FROM FACEBOOK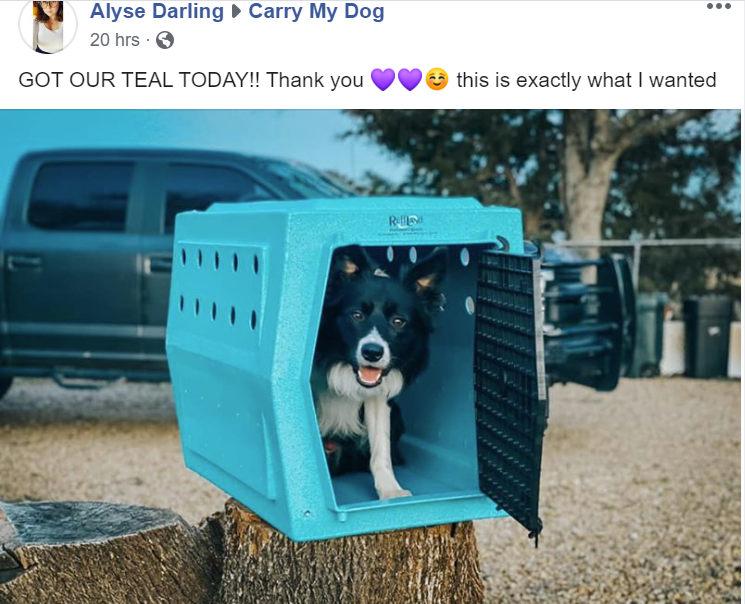 ....FROM FACEBOOK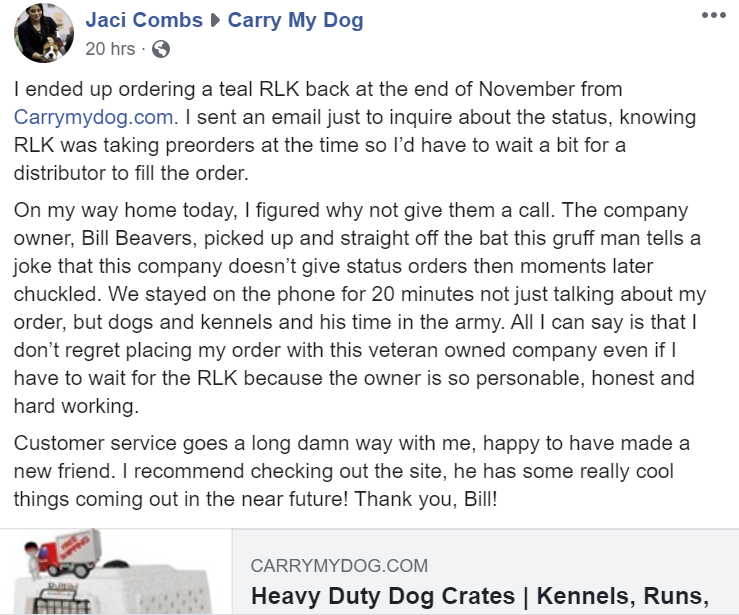 ........Thank you so much for your kind words. It was certainly my pleasure serving you, and thanks for the great conversation as well.
Bill Carrymydog.com
....FROM INDIANA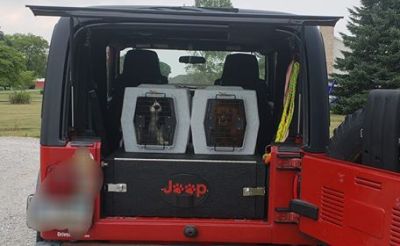 Thank you, Bill, for the amazing service provided when I ordered my 2 small RTK crates! Thank you for also keeping me up to date on the status on my crates, I have really enjoyed my experience with CarryMyDog.com and I recommend you to everyone! They are perfect in my TJ Jeep Wrangler, strapped down on my handmade locking box for dog shoes!:)

Thank you,

....Elizabeth from Indiana

....FROM OREGON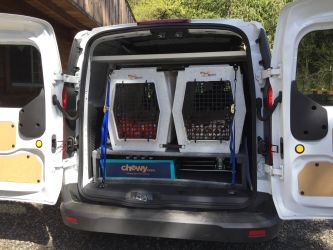 We didn't get a note from this customer but, we did get a great photo of her installation on top of her specially made shelf. Thank you for the great photo.
Bill CarryMyDog.com
....FROM FLORIDA
Hi Bill,
Jekyll and I are loving the Ruff Tough Kennel. It's good looking as we fly down the road. It's cozy but not too tight for my Jekyll. The tie-downs on each corner worked out fine.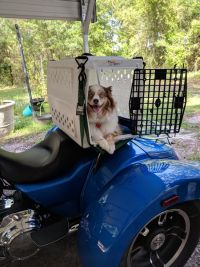 Jekyll is a blue-eyed five-year-old miniature Australian Shepherd. He is laying on a gel-cooled mat, and with the additional holes along the bottom of the carrier, he should not be too uncomfortable on his travels.
On longer road trips the carrier may need to be secured with straps around the middle and Jekyll will be wearing his safety harness which will be secured through one of the holes in the upper side of the carrier.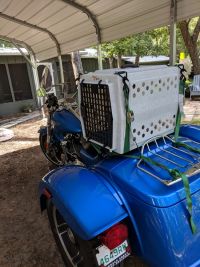 After the D-rings were installed I ran a pair of cam buckles through the passenger handholds. There is another set of cam buckles that run from the back of the carrier, around the passenger foot pegs with the excess tied off on the rack on the trunk of the bike.
Thank you Carry My Dog for the great customer service too.
....Veda & jekyll from Florida
This Aussie is ready to ride in his Ruff Tough Kennel on such a beauty of a bike. Happy times my friends.
....Bill . .... .CarryMyDog.com
....FROM PENNSYLVANIA
Hi Bill,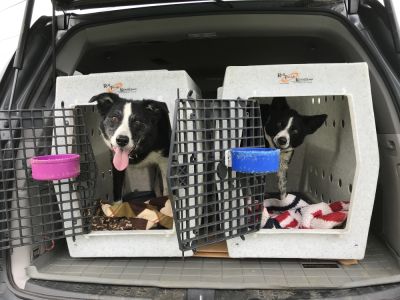 My working Border Collies Abe and Gin love their Ruff Tuff Kennels! I've got four of them in my Honda Pilot and my dogs are all secure and safe as we travel around the US competing in sheepdog trials. I've been very pleased with the customer service I've received from Carry My Dog and several friends have bought their crates there based on my recommendation. I have compared prices on other websites but Carry My Dog always has the best prices on both the crates and shipping. Happy customer and happy dogs!
....Carolyn, Abe & Gin from PA
....FROM MICHIGAN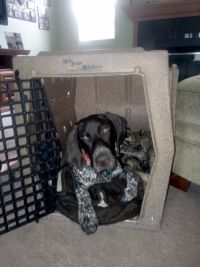 Hello Bill,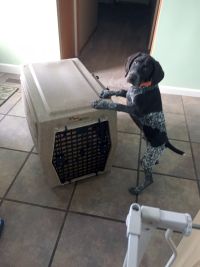 I thought I would pass on some photos of our German Shorthaired Pointer, Levi. The first picture is the day it was delivered and once opened, he happily investigated the new addition.
The second picture is of Levi once he learned he could use the kennel to look out the window.
The last picture is of Levi fully enjoying the comfort of the Intermediate Ruff Tough.
We liked the product so much, we bought a second Ruff Tough kennel for my truck.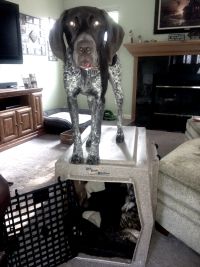 Levi is completely at "home" while inside and goes there regularly when it is his nap time, and also bedtime at night. Do Thank you for providing a wonderful product at an affordable price.
....Mike & Levi from Michigan
Accessories available for your new Ruff Tough Kennel


NOTE: FREE SHIPPING ON KENNELS ONLY.
Portable Dog Water Dish: The water dish is made from the same sturdy material as the Ruff Tough Kennels. This water dish holds up to 1 gallon of water. It has a hose connection built-in for easy cleaning.
Handy Top Tray: Fits snugly on the top of each kennel. It functions as temporary storage of all the miscellaneous items you may need depending on the nature of your outing.
Coupler Kits: These great coupler kits connect these great kennels side by side at home, in the truck, or anywhere coupling works best for your use.
Tie Down Kits: As the name indicates, use these kits to secure your kennels in your vehicle. This is the most crucial item utilized for the safety of your best friends when traveling in their kennels.
Kennel Handle Kit: Contains handles as an option on Intermediate and larger size kennels.
Door Covers: Help keep heat inside the kennel. It also helps protect your dog from flying debris during travel. It can sometimes be a solution to dogs with anxiety issues.
Metal Door Liner: Perfect addition to our composite door for escape artists. The door liner attaches to the inside of the kennel door, providing added protection against pushing and chewing.
Replacement Doors: Isn't it great to know that should your kennel door get damaged for whatever reason you can quickly obtain a replacement? We think so.
Side Latch Rods: Add another level of security to your door and your kennel by using these two horizontal latch rods.
Kennel Fan: Maximum cooling is achieved using our 2-speed kennel fan. The fan attaches to your 12V cigarette lighter plug or your trailer hitch power connector.
Easy Squeeze: Clips for the wire doors on Ruff Tough Kennels for a more natural opening.
All these kennel accessories are discussed in more detail with photos and some videos in our accessories category. Some of these accessories can be extremely helpful for the daily use of your new Ruff Tough Dog Kennel.
RETURNS & EXCHANGES
Your satisfaction is of the utmost importance to us! You may return any unsatisfactory item, in new condition, within 30 days of the delivery date for credit to your account/credit card, exchange, or adjustment minus shipping costs. After this date, the manufacturers' warranty applies. Regular shipping charges apply on all returns and exchanges. Please see the instructions for returning the merchandise listed below.
If you purchased from one of our authorized dealers and it is an issue other than the manufacturer's warranty, please contact them directly to discuss the return or exchange.
Please note that we do not permit the return of the following products:
Special orders and products that are custom configured to your specifications (this includes Extra Vent Holes, Colors, and any other modification done at customer request.
Products sold "as is" or "seconds."
You may want to purchase insurance on all returned goods for the full retail price. We cannot be responsible for items that are damaged or lost in shipment when being returned. Returns should be shipped via UPS/FedEx or insured Parcel Post to 46982 Mindy St, Tea, SD 57064. The Post Office lacks accurate tracking and delivery confirmation. If you ship via the Post Office, we suggest delivery confirmation with a signature required.
Have questions or need help? Call us at 605-368-9872 or e-mail shipping@rufftoughkennels.com or orders@rufftoughkennels.com
Kindly fill out the form below and mail with your return (for all orders placed directly with us or for warranty issues). As mentioned above, if purchased through an authorized RTK dealer, please contact them for the return/exchange.
INTERNATIONAL SHIPPING
No shipments to Canada. We will ship to a border town if you can pick it up there and take it back over the border. BUT, we definitely do ship to ALASKA. The shipping is extremely reasonable too. Ask us for a quote!