QUICK OVERVIEW
Carrymydog.com is proud to provide the all-new dig proof dog crate pads for inside as well as under heavy duty dog crates and all other types of crates and kennels. Past and future crate customers will enjoy this very special indestructible crate pad Made in the USA. A single top layer is applied to closed cell foam making it dig proof and waterproof. These great crate pads work for all kinds of dog crates and kennels.
This pad is an indestructible and dig proof heavy duty dog crate mat. It provides the ultimate in durability and comfort. This mat will stand up to the rigors of your dogs' digging while providing an extra level of comfort for the traveling dog or the stay at home dog.
DETAILS
These great crate pads have built-in durability without sacrificing comfort. There's a crate pad for every model, brand and size dog crate or kennel.
Some of the more well-known brands;
Ruff Land Kennels
Gunner Kennels
Dakota 283 Kennels
Xtreme Dog Crates
Midwest Wire Crates
And, tons of other crates and kennels
If you don't see your model, size or brand in the drop-down menu above, just give us a call or an email with the dimensions you want. We will make a crate pad just for your dog and his or her dog crate.
Our crate mat is made to stand up to any and all dogs that like to dig or is in any way, rough on their crate mats.
Toughness and durability are important but so is doggie comfort. These special crate mats provide a cushion to reduce the impact on your dog's joints and elbows. The top surface is not only super tough; it's flexible.
The dig resistant top surface is the same product used for spray-on truck bed liners, so you know how tough it is. The cushioned foam layer is the same foam used in athletic padding, cheerleading mats, and high-quality anti-fatigue mats.
Watch this dig proof test.
CUSTOM DIG PROOF CRATE PADS
If you have a crate that isn't listed in one of our dropdown menus, give us a call or drop us a line. We'll get you a quote on a custom pad just right for the inside of your dog's crate or kennel.
Now that you have some idea of the strength of the pad surface let's talk about features and benefits.


LOOKING FOR A CHEW PROOF CRATE MAT HAVE A LOOK AT OURS. IT'S GUARANTEED CHEW PROOF!


FEATURES & BENEFITS
Dig proof top surface is a composite material bonded to closed-cell cushioned foam
100% Waterproof - closed-cell foam layer will not absorb urine or water
Has insulating properties to block heat and cold transfer to your dog
It's Repairable - top surface can be repaired
These crate pads offer extreme UV resistance compared to other foam mats
The low height profile means more headroom for your dog
Cushioned foam provides Orthopedic comfort
Dig resistant, durable surface increases mat longevity
Anti-Microbial - Very Important: Waterproof closed-cell foam prevents liquid absorption which helps stop mold and mildew
Easy to clean with a hose and common disinfectants
Pad rolls up easily for storage and portability
This crate pad will keep your dog warmer in cold temperatures
Custom Sizing available: Call us with your size requirements (800) 640-1364
FAQs
Are these crate pads waterproof? Yes: These crate pads are 100% waterproof.
The top and bottom surfaces will not absorb liquids. The bottom layer is made of closed-cell foam. It is a very high-quality foam. It's the same foam that's used in top quality flotation devices and life jackets. We chose the best material for these crate pads.
Is the crate pad chew proof? No, not at this time. The Standard TuffComfort crate pad is not chew proof. This pad is designed to fit snugly in crates to prevent dogs from reaching the edge of the mat. You can order pads in custom sizes to fit in your kennel or crate. The pads can also be trimmed with a utility knife to fit any crate. When you order one of these crate pads you are affirming that carrymydog.com has no responsibility for your dog should he or she find a way to chew the pad. We advise the dog owner to make the proper decision regarding what is put into your dogs' crate.
Is the crate pad easy to install?
Always do your best to order the correct size, however, should your new crate pad arrive oversized for your crate, you can easily cut it to fit your crate using a sharp utility knife.
The crate pad is "rollable" which makes it easy to install and remove.
How comfortable is the TuffComfort crate pad?
Our crate pads are made with half-inch closed-cell foam. It absorbs impact forces while providing tons of cushion comfort for your dog. The high rebound nature of our foam makes the pad very comfortable.
This is the same foam that is used in high-quality:
Gym mats
Athletic padding
Anti-fatigue mats
This foam will retain its structural integrity for years to come.
How easy is the crate pad to clean?
All you need to do is spray the mat with a hose and let it air dry or you can wipe it dry with a towel if you prefer. Any common disinfectant can be used. Mats can be easily brushed or wiped off.
Will the TuffComfort crate pad block heat and cold transfer to my dog?
The composite material that makes up the top layer and the closed-cell structure of the foam layer makes our mat very efficient at blocking heat and cold transfer. During the cold winter months, the mat will help trap your dog's body heat inside the crate. The pad will prevent body heat loss on cold floors.
WARRANTY
Happiness Guarantee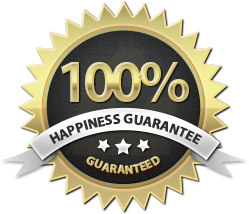 All our TuffComfort Crate Mats come with a "100% Happiness Guarantee!" Use your mats for 30 days and if for any reason you don't like it we will provide a full refund including shipping.
Lifetime Warranty
TuffComfort warranties each mat to be free from manufacturer's defects in material or workmanship under normal use and service for the lifetime of your dog from the original date of purchase. This warranty covers all parts of the mat.
Standard Crate Mat
Each mat comes with a "One Year Dig Proof" warranty. If your dog digs through the mat surface making it unusable we'll issue a full refund or send a replacement mat per your choice. * Note that the standard crate mat is designed to fit snugly in crates or cages to prevent dogs from reaching the edge. This will stop some dogs from chewing the edges. The standard crate mat is not warrantied for chewing* However, you are still covered under our "30 Day Happiness" guarantee above.
Deluxe Crate Mat
Each mat comes with the "One Year Chew and Dig Proof" warranty. If your dog digs or chews through the mat making it unusable we'll issue a full refund or send a replacement mat per your choice.
Replacement Mat
We don't just send another mat. We work with the customer and manufacture a replacement mat specifically for your needs.
* For example, if your dog digs through the mat surface, we can send one with a double coated surface for extra dig resistance. *
All warranties (Lifetime Manufacturer's, Chew Proof, and Dig Proof) extend to the original purchaser and are non-transferable.