QUICK OVERVIEW
All new deluxe heavy duty dog crate mat is chew proof.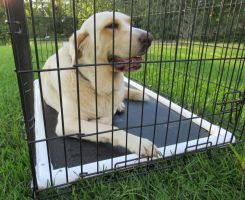 If you take a moment to understand the way the materials work together, you will know that it is a chew proof crate mat.
DETAILS
The design of the Deluxe Crate Mat calls for the use of 1/2" closed cell foam as the waterproof base layer. The top layer is 1/16" tough plastic material, the same plastic used for spray-on truck bed liners. Here's the best part. The edges of the entire mat or pad are covered by a 1 1/4" schedule 40 furniture grade PVC. This keeps your dog from accessing the actual crate pad.
The comfort level of the mat material is similar to an anti-fatigue mat.  The top layer, which is the same as truck bed liner material, makes it highly dig resistant.  The PVC edge encapsulates the mat edges making it highly chew resistant.
FEATURES
Chew Resistant Design - PVC edges prevent your dog from chewing the mat edges.
Mat Stays Flat - PVC edges prevent dogs from pulling the edge up and chewing.
Dig Resistant Surface - The top surface is the same as truck bed liner material which makes this mat highly dig resistant.
Orthopedic - cushioned foam provides comfort similar to anti-fatigue mats.
Anti-Microbial - closed cell foam prevents liquid absorption helping to stop mold and mildew
Easy cleanup - wash with hose and let dry or brush off hair. Use common disinfectants.
Strategically located drain holes let water drain out of the PVC.
Insulating - crate mat blocks all cold from floors and heat transfer.
Repairable - top mat surface can be repaired
Extreme UV resistance compared to other foam mats
Custom Mat Sizing - we can make any size mat for your crate regardless of crate brand.
Call us with your size requirements (800) 640-1364
WARRANTY
Happiness Guarantee
All our TuffComfort Crate Mats come with a "100% Happiness Guarantee!" Use your mats for 30 days, and if for any reason you don't like it we will provide a full refund including shipping.
Each Deluxe mat comes with the "90 Day Chew and Dig Resistant" warranty. If your dog digs or chews through the mat making it unusable, we'll issue a full refund or send a replacement mat per your choice.
Replacement Mat - We don't just send another mat. We work with the customer and manufacture a replacement mat specifically for their needs. For example, if your dog digs through our mat surface, we'll send one with a double coated surface for extra dig resistance.
ORDER YOURS TODAY OR CALL US FOR A QUOTE ON THE SIZE YOU NEED!