QUICK OVERVIEW
Carrymydog.com is now selling the Econocrate from Xtreme® Dog Crates. It is now part of our extensive collection of the heaviest of authentic heavy duty dog crates. The Econocrate line of heavy duty dog crates is a robust super strong low priced crate. But, it's tough enough to hold the biggest and badest of Separation Anxiety, Noise Phobic, and aggressive dogs for a great low price.
The Econocrate is Escape Proof & Indestructible welded one-piece heavy duty dog crate. You get the same holding power as our more expensive heavy duty crates at these low prices.
DETAILS
All the Econocrate panels are 3/16ths diameter welded steel wire. The panels are surrounded by 1" 16 gauge steel tube. The full-length door hinges are welded. The door has a Schlage deadbolt to keep the crate closed until you open it.
DISCONTINUED

FEATURES
Escape Proof
Indestructible
3/16 diameter heavy-duty welded steel wire
1" – 14 Gauge Steel Tube used for wire frames
Full height door for easy in and out for your dog
Econocrate is a one-piece product. It is not collapsible.
Measure your doors before ordering
15 Yr. Factory Warranty against escapes to the original purchaser when used as intended.
Powder Coated for rust resistance.
There is no warranty against rust. Eventually, anything steel may show rust spots with time & environment.
DEADBOLT OPTIONS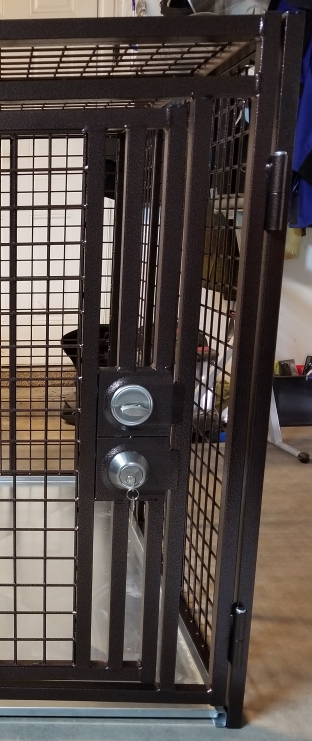 If you're a dog owner that thinks your peace of mind, we offer deadbolt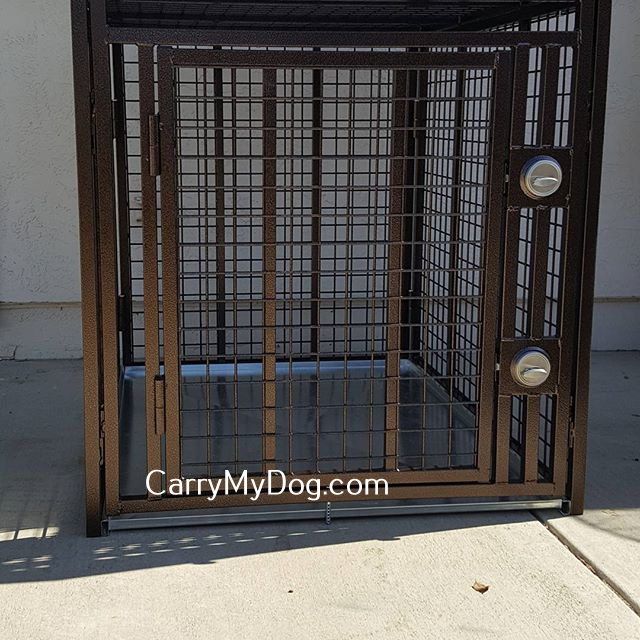 options. Please see the drop-down menu "Deadbolt Configuration" in the Add to Cart area. We know one deadbolt is enough, but some take no chances.
Deadbolt Placement
Should you request 1 Non-Keyed and 1 Keyed Deadbolt be installed on your new Econocrate, please know that they will be placed very close together in the vertical center of the door frame. This will ensure lock integrity when only one lock is being used. This configuration allows the opening and closing of the door without dealing with the key each time. However, if you should need to lock the crate, the keyed deadbolt is there ready to be used.
When you have two deadbolts installed that are the same, both keyed or both keyless, they will be separated and placed equidistant on the vertical door frame. This provides equal door security at both the top and bottom door locations.
PAN OR PAD
The bottom of the Econocrate is made of the 3/16th-inch diameter welded steel wire. We do not include a pan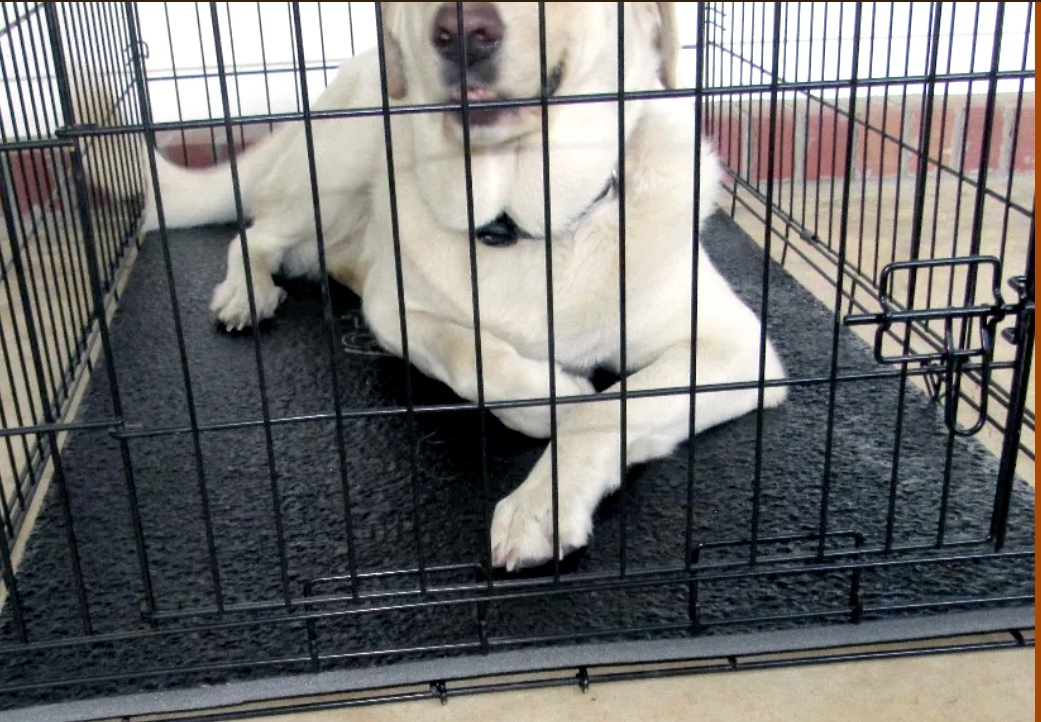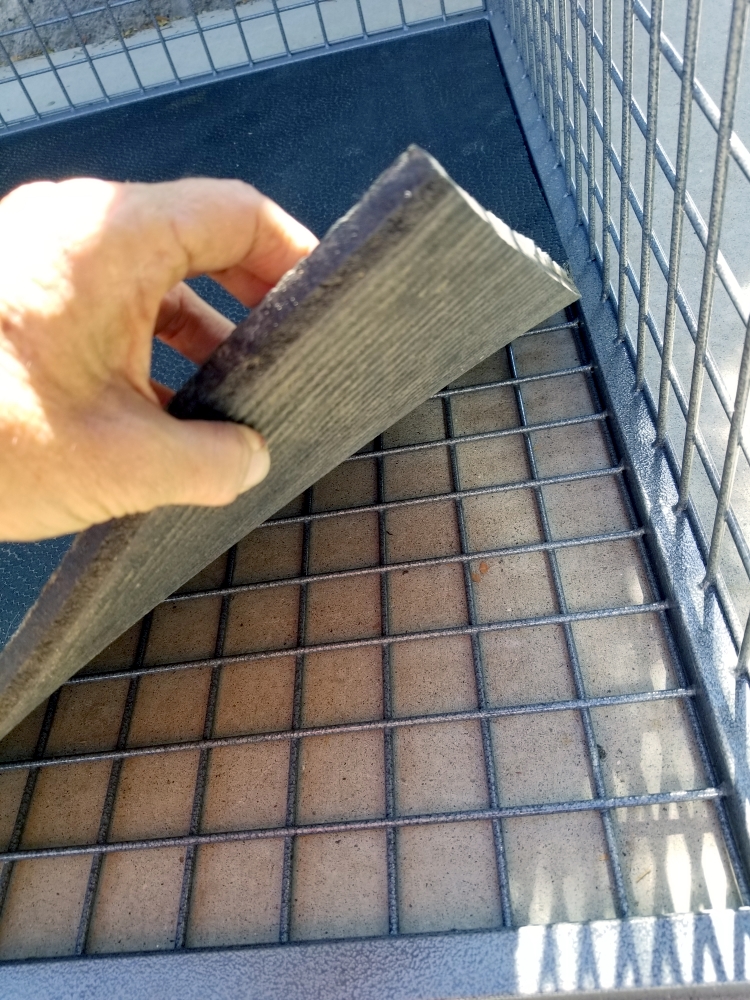 with any of the Econocrates. We know you want the strongest and most durable heavy duty dog crate for the lowest price, so we do not supply a pan to keep the cost down.
As an option, Carrymydog.com and Xtreme® Dog Crates recommend the TuffComfort Crate Pads. We have found perhaps the strongest "dig proof" crate pad for your indestructible heavy duty steel dog crate. And it's Made in the USA!
The Standard Crate Mat is a highly dig resistant dog mat for use in crates. A 1/16" thick layer of our tough, top material (same as truck bed liner material) is bonded to a 1/2" thick closed-cell foam layer. The comfort level is similar to an anti-fatigue mat. The Standard Crate Mat is warrantied against digging only. For chewers, see our Chew Proof Deluxe Crate pad with a PVC border. ORDER YOUR WATERPROOF PAD HERE! If you don't see your size, call us. We'll make you a crate pad in the size you need.
HOW LONG DOES IT TAKE TO GET MY CRATE?
The standard production time is 3 to 6 business weeks plus travel time. If you have ordered a custom crate, the production time can take a few additional production days. We will do our best to be early, but sometimes it just may take longer. Travel time is anywhere from overnight up to 5 to 7 days depending on your location.