Outdoor Dog Kennels & Runs for K9 Heroes and Companions
Whether your dog is an extension of your family or your devoted work partner, at CarryMyDog.com we know you want to provide a safe and secure environment for them to relax and unwind after a long day of work or play. We feature a very specific selection of industrial-strength - commercial-grade outdoor dog kennels in single and multi-run styles. Our enclosed kennel designs are so high-quality you will know you've purchased the best kennels which will provide the comfort and security your K9 requires.
NOTICE: EXTREME CONTAINMENT SYSTEMS IS NO LONGER PRODUCING OUTSIDE DOG KENNELS. WE DO HAVE ONE KENNEL LEFT THAT WAS A CUSTOM BUILD. THE FREIGHT CARRIER SCUFFED IT UP SO THE CUSTOMER RETURNED IT. WE HAVE THE RETURNED UNIT FOR SALE AT A DEEPLY DISCOUNTED PRICE. (Freight is included however once the kennel is delivered to the carrier's dock, any damage is your responsibility.)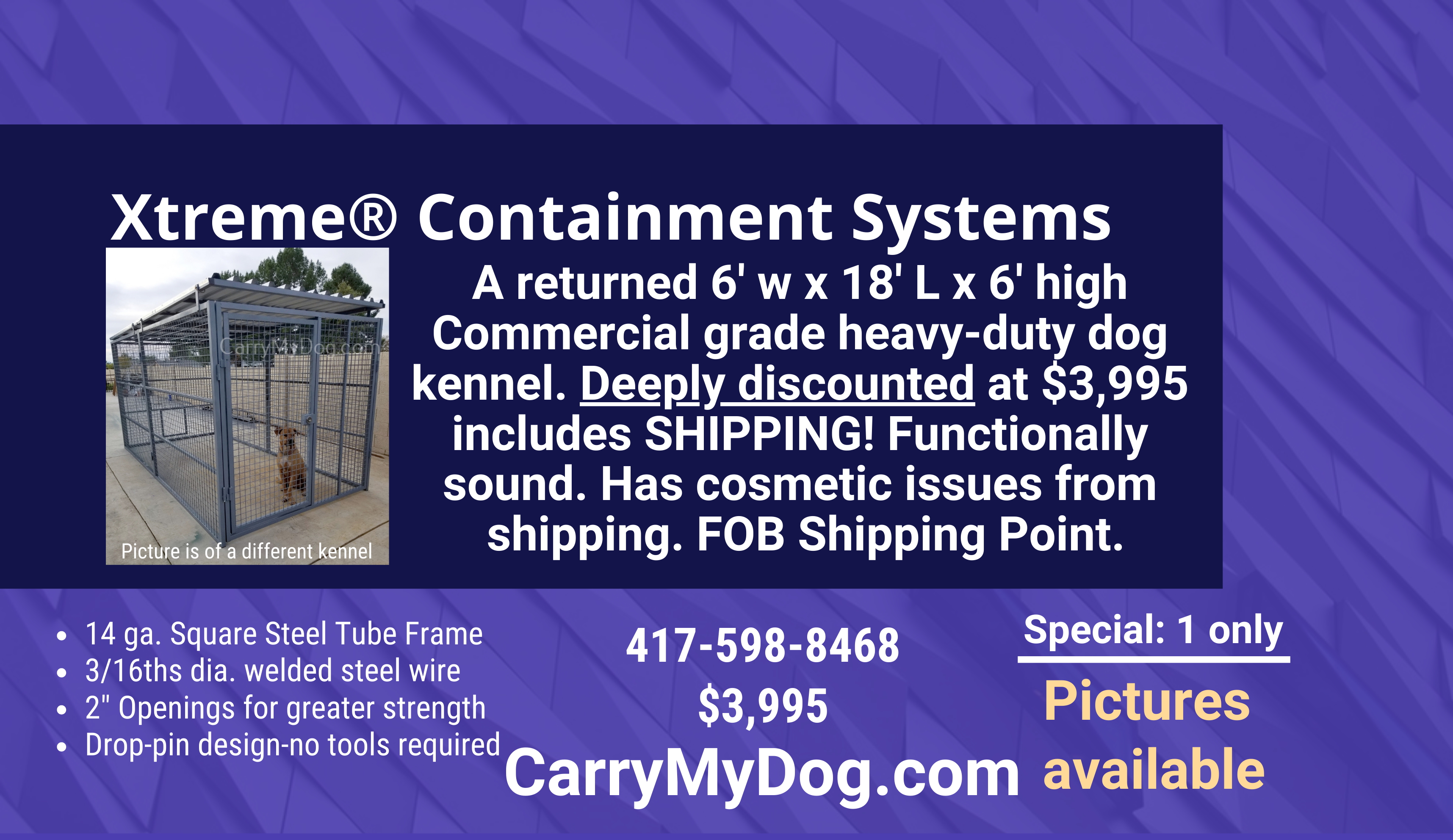 Suitable for doggy daycares and rescue organizations, but practical and affordable enough for use right in your own backyard. Own a commercial-grade outdoor dog kennel and let your furry friend out for some fresh air and exercise with complete confidence in their safety and confinement. We all know that dogs are "dwellers" by nature, and our enclosed kennels and roofed kennels will keep your pets out of the elements and feel safe in their own space all year round.
An increasing number of SAR organizations are finding and enjoying the many benefits these outdoor dog kennels bring to their dogs and their companies.
Protect your dogs with top-of-the-line steel
K9 kennels from CarryMyDog.com today!